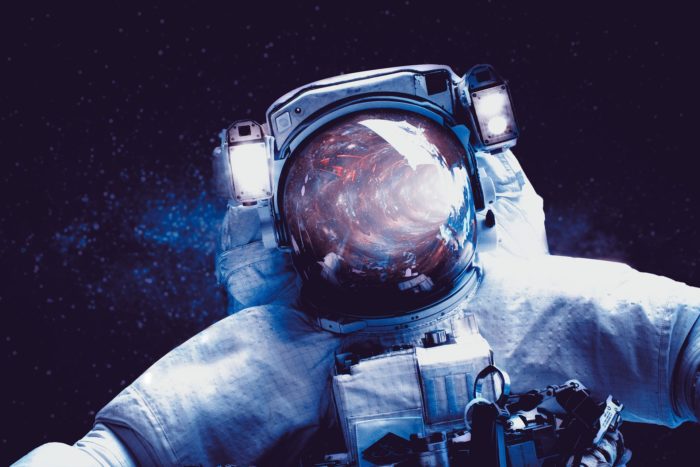 Perhaps one of the most intriguing, if at times, outlandish elements of the UFO and alien question are the claims of secret space missions, black-budget projects, and even alien-human collaborations taking place across time and space. Indeed, many volumes of books can and have been written on the subject such is the depth and complexity of the claims. What we will do here, then, is to look at several aspects of these claims, where they come from, and how much potential truth they may contain. While we have examined some of these previously, this will give us a chance to not only go over some of the most intriguing ones again but attempt to project a speculative timeline of these apparent top-secret, black-budget programs, as well as how they might, in theory, connect to each other, and to other fields of interest and influence.
And while some are more credible than others, what makes these conspiracies thrive are the connections NASA have to the US military. They are, in fact, for all intents and purposes, another wing or organization of the military. What this means is at any point, the US government or military can ensure that NASA files are kept out of the public arena in the name of "national security". Now, with people increasingly using Freedom Of Information requests to fight such obvious censorship, these secret space programs officially operate as "private companies" who work on behalf of NASA. Private companies, of course, are not subject to Freedom Of Information Acts, and so legally can refuse to make any of their work public knowledge.
Maybe the words of George Bush Senior are worth remembering. When asked about government knowledge of UFOs he would reply in all seriousness, "You don't know the half of it".
The Murky Origins Of A Cosmic Conspiracy
It would perhaps be wise to briefly remind ourselves of the basis of the alleged circumstances that would lead to such top-secret and otherworldly programs. The widely accepted beginnings of such secret projects based on recovered, and then later "gifted" technology, go back to the summer of 1947 at Roswell, New Mexico and the infamous crash that occurred there.
However, as we looked in our case study of The Battle of Los Angeles in 1942, as well as the many rumors of alien technology retrieved by the Nazi regime in the mid-1930s, these roots might stretch further back than even many in the UFO community think. While we will examine the Nazi connections in more detail in a future case study article, some rumors surfaced in the wake of Operation Paperclip of a crashed and recovered UFO in the Black Forest in 1936. Indeed, it is from such postwar programs as Operation Paperclip that, if we assume for one moment the rumors were true, that such alien technology first entered the United States.
We have examined before, for example, the apparent claims of the highest-profiled of those transplanted German officers, Dr. Wernher Von Braun, who would state to UFO researcher Allen Greenfield in response to a question as to why the Nazis were so far advanced at the start of the Second World War than the rest of the world. According to Greenfield, Von Braun, while motioning upwards to the sky would state "We had help! From them".  When Greenfield pushed Von Braun as to whether he was referring to extraterrestrials, he simply and matter-of-factly replied, "Yes".
Perhaps, as speculative as this suggestion is, it wasn't only scientists and their work that made the journey from war ravaged Germany across the Atlantic Ocean in the summer of 1945?
What "Really" Happened At Roswell!
Back In the United States, though, there are several claims and apparent whistleblower reports of UFO crashes in the early-1940s. And what's more, not only were these crafts recovered by the US military, so were the apparent extraterrestrial occupants of them. Some of them, alive. How much truth resides in these claims is difficult to grasp. What is more certain, however, is that there was much more of a UFO presence in the skies of the United States in the years prior to the Roswell crash than we might think. Regardless of what those UFOs might one day prove to be.
Perhaps lesser known, however, are the apparent claims passed on by alleged whistleblower, Victor Martinez. One of which would claim a slightly different version of events at Roswell. The events were passed onto Richard Doty in November 2005 who would report on them. And it would seem, as we have suggested before, that the "messy" way in which the military dealt with the press regarding the Roswell crash may have been quite purposeful.
According to the report, two crafts would come down that summer's evening in 1947, although one of them would lay undiscovered until 1949. The Roswell crash of 1947, though, was much more eventful than "just an alien craft" that crashed in the desert. When the US military arrived at the Roswell site, there were several dead alien crew members in and around the wreckage. There was, though, a surviving alien pilot, who the military would discover "hiding behind a rock".
While it wouldn't accept food from the soldiers, it did take a drink of water. It was then, along with its five dead crew members, transferred to Los Alamos Air Base. The dead crew were placed into deep-freeze storage.
Conflicting Claims Of Contact?
According to Martinez's claims, the alien crew member would survive for several years until 1952. During that time, it would manage to communicate with its hosts, assisting them in reverse-engineering the ruins of the alien crafts they had in their possession. By the time of the creature's death, US scientists had learned so much they were able to continue with the reverse-engineering project.
Here is where we begin to get several alternative claims and theories possibly crashing somewhat. Martinez would state that the reverse-engineering programs would continue, including the repairing and utilizing of an alien communication device.  This would, according to Martinez, result in contact with an extraterrestrial race known as "The Ebens" in early-1964. This meeting would take place at an undisclosed military base in New Mexico. The Ebens wished to collect their dead, but also offered to enter in to a strange "exchange-program". This would, if the theories are true, result in twelve Americans returning with this alien race to study them and their world, while a single Eben would remain on Earth to assist the American government – or at least the shadow element of it.
And if we accept this event did indeed occur, where would that leave the claims of an apparent meeting between President Eisenhower and an alien race most agree to be "The Greys"? While both claims are exactly that, events that would unfold on Earth, namely the plethora of alien abductions that would seem to begin from the early-1960s onwards, would make the Eisenhower meeting the more likely of the two. And what's more, several respected UFO researchers have voiced their belief of the credibility of the accounts.
Or might it be that both encounters took place? After all, many researchers suggest there is more than one alien race on Earth.
Secret Missions To Mars?
One of the most intriguing of all claims of secret space programs, Project Redsun, which while still rather outlandish is perhaps a little more believable. The report came into the public arena in 2011 courtesy of Italian UFO researcher, Luco Scantamburlo. He would claim that within months of their historic landing on the moon, US astronauts, Neil Armstrong and Buzz Aldrin were enlisted in a secret space mission. One that would see them join forces with the (publicly perceived enemy) Soviet Union. These projects would be to gather information about any potential future missions to the red planet and beyond.
The missions would leave from a top-secret location somewhere in Brazil. It is not known how many such missions there were, but according to Scantamnburlo, by 1973, the missions were ready to progress from mere fact-finding to a full-scale landing.
Whether or not such a mission went ahead is up for debate. However, there are perhaps some interesting things to mention with regard to it. In 2010, for example, astronaut Gene Cernan was interviewed for FOX News when it was revealed funding for missions to the moon would be cut so that NASA could concentrate on attempting to reach Mars. He was asked about his thoughts on fellow astronaut, Buzz Aldrin's statements, Cernan would state in all seriousness that Aldrin "wanted to go back to Mars". Was this a slip of the tongue?
There are also the claims of "Jackie" who, in 2014 would contact Coast To Coast radio and claim that in 1979, while working in the control room at NASA, she and around six other people witnessed "humans on Mars". Jackie would claim to have made the bizarre spot while downloading telemetry from the Viking rover.
The video of Cernan's comments is below.
The Reagan Years – Open References To UFO And Alien Activity
Perhaps one of the most intriguing presidents in United States' history, at least in terms of the UFO and alien question, and even more specifically, the secret space programs would be Ronald Reagan, who served from 1980 to 1988. Reagan would always make his interest and belief in such things as UFOs public. Indeed, before he even came to serve as President of the United States, he had seen a UFO on two occasions.
He would often make remarks in his public speeches. Perhaps most notably in 1987, when he made several rather open references to an "alien threat" while addressing the United Nations. Alleged whistleblower, Corey Goode, would claim that this speech was a coded message of the beginnings of a top-secret United Nations "interstellar space fleet".
Perhaps even more direct was another speech he gave in New York in 1988. Alongside Soviet President, Mikhail Gorbachev, Reagan would state "I occasionally think how quickly our differences, worldwide, would vanish if we were facing an alien threat from outside this world". Once again, does this apparent throw away line mask a real message to those in the know?
Perhaps the most intriguing quote of Ronald Reagan, though, were not words he spoke, but words he wrote in his diary while at the White House. In April 1985, for example, he would write, "Lunch with 5 top space scientists. It was fascinating. Space truly is the last frontier and some of the developments there in astronomy etc. are like science fiction, except they are real. I learned that our shuttle capacity is such that we could orbit 300 people".
Much like his speeches, these apparent "confessions" should be treated with a pinch of salt, but they are intriguing nonetheless. You can view the "alien threat" speeches below.
The Star Wars Project – Really A Defense Against Attacks From Space?
Whatever Reagan really meant with his speeches regarding alien threats, to some, his famed Strategic Defense Initiative (SDI – otherwise known as the Star Wars Project) in 1983, was nothing more than a smokescreen for a space defense force. Not from threats from the Soviet Union. But from threats coming from outer space.
Perhaps when understanding Reagan's approach to the defense of the American, and indeed, the world's population, it is worth looking at the words of one-time State Department diplomat, Michael Michaud, who would write about the thoughts of former president, Richard Nixon. He would state that Nixon would ponder that even though aliens may indeed be peaceful and non-aggressive, their first concern, much like humans, would be to protect themselves. With this in mind, Michaud would write, "Our basic interest will be to protect ourselves from any possible threat to Earth's security".
Whatever the reasons, Reagan certainly took the issue of UFOs and alien life seriously. Furthermore, his personal research would appear to have been extensive and persistent.
Incidentally, many other researchers believe the Star Wars project had a "dual purpose". For example, in his book 'Breakthrough', author Whitley Strieber would state that he was privy to a secret document. This would reveal that the EG&G Corporation were actively developing "defense weapons against extraterrestrials".
Furthermore, Steven Greer would claim that two different sources who work in Special Access Programs, were aware of the purposeful diversion of funds for "black budget projects". These projects were to develop "SDI weapons that could down UFOs".
Or perhaps Reagan's words to Steven Spielberg following a special screening of ET at the White House. Following the film, Reagan would state to Spielberg, "There aren't six people in this room who know how true this really is".
Star Wars Project Connections To "Solar Warden"
According to some conspiracy theorists and whistleblowers, one of the programs that would unfold secretly alongside the Star Wars Programs was "Solar Warden". If these claims are true, then there are around eight huge colony-like motherships, and anywhere between forty to fifty smaller crafts operating on the other side of the moon.
William Tompkins claims to be a whistleblowing insider, and even to have had involvement in the development of some of the crafts themselves. Although these crafts are human-made, Tompkins at least, claims to have received "telepathic blueprints" from "benevolent extraterrestrials" which assisted in the building of such ships. This was, Tompkins would argue, so humanity would have the capability to defend itself should the need ever arise.
In another strange connection back to the apparent Eisenhower meeting, Solar Warden was also a consequence of the apparent arrangement for human subjects for abduction by the Greys. According to some researchers, when it became clear that the Greys were not sticking to the agreed limits, nor were all abductees returned, the Solar Warden project was seen as providing a "space-border" patrol unit.
The project has its roots back as far as the late-1960s, but really shifted gears in the early-1980s. Whether that is reflective of Reagan's personal interest, or a sympathetic response to an increase in "missing" abductees is perhaps open for debate.
The short video below looks at the basics of the Solar Warden conspiracy.
"Thousands Of Billions Of Dollars On Black Budget Projects!"
Perhaps one of the biggest organizations in the secret space project conspiracy would be Lockheed Skunkworks, who many believe have technology beyond what most of us could imagine. Perhaps just to demonstrate that point we should consider the blunt and blatant words of Ben Rich, one-time CEO of the company who would state that "We have the technology to take ET home. Anything you can imagine we already have the technology to do". He would continue, though, that "these technologies are locked up in black budget projects". So locked up, in fact, it would "take an Act of God to get them out to benefit humanity".
Former Canadian Defense Minister, Paul Hellyer, perhaps one of the highest-ranking officials to not only state his belief in UFOs, but that he "knows there are anywhere from four to twelve different races of extraterrestrials visiting the Earth", would echo Rich's comments regarding the black budget programs. He would state that "trillions, and I mean thousands of billions of dollars have been spent on black projects". Furthermore, both Congress and the commander in chief are "deliberately kept in the dark" about such diversion of funds.
Regarding the alien races that are visiting Earth, Hellyer would state that "many are benign and benevolent, and a few are not". Furthermore, they "come from various places" such as the Pleiades and Andromeda. One such race even "live on one of Saturn's moons".
Dr. Steven Greer is another who believes there is constant contact with extraterrestrials coming and going from the planet all the time. He would even claim that leaked information he had seen stated that the North American Air Defense Command in Colorado would record and then track over 500 "fastwalkers" (UFOs) every year.
You can watch an interview with Steven Greer below.
Slave-Ran Trading Posts On Mars?
Given some of the statements made above, then, it perhaps shouldn't be surprising that many conspiracies believe the Lockheed corporation have spacecraft not only capable of flight in near and far space, but of reaching other galaxies and planets altogether. What's more, perhaps in an effort to spread funding and reach, or perhaps in an effort to better hide information and paper trails, it would appear that Lockheed had formed an alliance of sorts with other similar corporations. An alliance, if the claims are correct, which goes by the name of the Interplanetary Corporate Conglomerate.
What is particularly interesting about this claim is that rather than a defensive measure or anything "warlike", the Interplanetary Corporate Conglomerate came into existence to focus on trade. Interplanetary trade. While this, on the surface, is interesting enough and, assuming contact with extraterrestrials had occurred, would make sense, these particular claims take a bit of a drastic turn.
While trading does take place at trading posts on several "colonies" on or under the surface of Mars, these colonies are largely staffed by human slaves, the result of abductees that were never returned to Earth. Now, two generations later, children have been born on Mars. And into intergalactic slavery. The claims come from Corey Goode, who is one of the more controversial whistleblowers, not least due to the content of his "leaks of information". While we should perhaps take Goode's claims with that ever-helpful pinch of salt, he is certainly not the only person to suggest a secret colony on Mars.
The Five Colonies Of Mars!
According to some whistleblowers, including Randy Cramer who we will look at a little later, a military organization made up of soldiers from multiple countries armed forces is responsible for patrolling and guarding the five colonies on Mars from Martian entities indigenous to the planet, as well as an invading species of Reptilians from the Draco system (are these the same apparent Reptilians who many report encounters with on Earth?). This military unit is named the Mars Defense Force and, as mentioned above, soldiers usually operate tours of two decades before returning to Earth with no knowledge of their involvement. All except for the ones who, for various reasons, end up recalling their memories of the future.
Cramer would serve much of his time in the Aries Prime area of the red planet. This is where the very first human colony on Mars would surface. The colony operates under a huge biodome with its own generated ecosystem. Far from being a small outpost, the colony is literally a city within the dome, complete with a complete bureaucratic system and laws. It is perhaps interesting that films are beginning to be made that offer such insights as to how human life on Mars might be achieved. Another case of fact hiding in fiction? We will come back to this shortly.
Cramer, incidentally, would serve seventeen of his twenty years-service on Mars. He was then transferred to the Moon for the final three years of his duty. In fact, our nearest cosmic body is perhaps of supreme interest in the world of secret space programs.
Project Moon Shadow
One of those possible colonies might be Project Moon Shadow. According to the conspiracy, this colony is a training or proving ground where candidates face testing to see if they have what the authorities require. Many of these prospects are usually young children and abduction victims. Once again, this makes us wonder how much involvement these shadow government organizations actually have in alien abductions.
One particular reason to ask this question in light of apparent operations as Project Moon Shadow are claims of "genetically engineered embryos" following implantation into human females without their knowledge. Many claims state some of these children live "normal" lives on Earth before they face abduction and transportation to the moon where they are fully enlisted upon such secret programs and when their training begins in earnest. This is an interesting, if grim notion. And one that might have a correlation with the many missing children in the United States. Other claims, many of which show up in alien abduction accounts, state that the children face removal from the womb just prior to birth under the guise of "alien abduction" and then "born" on the Moon.
The training undertaken, incidentally, while looking for the physically able and gifted, appears to focus on individuals who have certain psychic abilities and are sensitive to emotional energies. This, according to the claims is down to the need to communicate with alien entities who have transcended "vocal communication".
Randy Cramer's claims that he was one of these "super soldiers" is just one of many that have surfaced in recent years.
Space Time Travel Missions – Nonsense? Or Collective Future Memories?
Although the "Super Soldier" conspiracies are something we will look at in more detail in another article, what should we make of such claims made by people such as Randy Cramer, Andrew Basiago, or Corey Goode? Claims of secret time-traveling missions to the Moon, Mars, or even further out in the reaches of space. Furthermore, such soldiers would "age-reverse" following their twenty-year services on Martian colonies. Some alleged super-soldiers have been on worlds much farther afield. If, of course, we buy into their claims.
Once more, the claims most are making of this nature are the kind that the majority of us, even the most open-minded and inquisitive will simply toss to one side as nonsense. The ravings of fantasists and those bordering on the edge of lunacy. However, many people not only just tell the same basic account. But many of the finer, lesser-shared (in the UFO community) details of such claims.
It is, though, certainly an interesting notion. If, for example, there was a secret space colony operating on the Moon and Mars, using transport, weapons, and a whole array of devices the vast majority of the population back on Earth have no idea even exist (including it would appear, time-travel), then wouldn't the best way to keep that secret is to have an army of soldiers who, due to the age-reversing and memory-wiping, have no idea they even soldiers at all?
Again, as unlikely as this scenario is, we should perhaps ask, where did the first report come? If it is truly nonsense, who first came up with it? And what's more, what about would resonate with others who would make similar claims? Perhaps, for the sake of argument, this resonance is more akin to collective future memories.
Military Industrial Complex Secret Space Program
There is another interesting element to the conspiracies surrounding the alleged secret space programs. Will there will ever be a disclosure of information to the public? Or will this knowledge will remain in the possession of a select few? As most of humanity continues to act as pawns and slaves for the select few in positions of knowledge. And with that knowledge, literally comes power.
And what's more, remembering back to some of former United States president, Ronald Reagan's remarks during his time in the White House, these secret programs and the potential release of information have been going on at least since the Second World War. The extraterrestrial element may not have begun until at least the late thirties or early forties. However, the roots of the Second World War stretch right the way back to the first global conflict. And even before that to the latter part of the nineteenth century. And to the apparent final shifts of power from the royal families and dynasties of Europe. To the influential banking, political, and military figures that would discreetly overtake many aspects of twentieth century life.
As we have examined previously, there can be a temptation to "lump" many of the world's events, particularly those awash with mystery and conspiracy, into the same barrel and find one all-encompassing answer. And while this will most likely prove not to be entirely the case, when we examine the two halves of the twentieth century and the events and knock-on effects of them that tie both sides of the 1900s together, it doesn't do a lot to dispel such an apparently obviously false myth. In fact, it begins to suggest that such an all-encompassing conspiracy might be more possible than we think.
The Perfect Cover Of The Cold War?
According to some conspiracy theories, the Cold War is worth highlighting. It would last the majority of the second half of the twentieth century. And was nothing more than an organized front for the world's population. And the smaller governments who were not "privy" to the real events unfolding in the shadows.
This cover would open multiple opportunities for the main governments involved. Firstly, it would allow the secret testing of aircraft. And weapons as a deterrent against the east/west. This without having to come under too much scrutiny from prying eyes. You could argue that "terrorism" provides a similar cover today. Secondly, any sightings that governments didn't wish the wider populace to see, or at least to take seriously, particularly in the Soviet Union where general information was under tighter control. Many explanations for Soviet UFO sightings, for example, would land at the door of "the evil west". And their vicious weapons. This also went a long way to having respective populations live in a constant fear. And a scared population is one that is much easier to control.
According to the conspiracy, there were several main and most influential countries in this secret "world government". These were the United States, the Soviet Union, Germany, and China. The United Kingdom, Australia, and France would receive "minority" status. Some claim that other countries would join over time. This would usually happen as a "sweetener" for countries who perhaps had a UFO crash within their borders. One that the US or Soviet militaries couldn't recover without creating "an incident". We have, for example, looked at the Kalahari Incident, where an apparent secret deal would take place between the South African government and the Americans, that would "technological weapons" exchanged for the remains of a crashed UFO.
A World Most Of Us Don't Realize Exists?
It is perhaps worth reminding ourselves of some of the words of Laura Eisenhower. She is the great-granddaughter of the aforementioned one-time US president. She would state that there is an entire world operating in the background that "most of us don't realize exists". According to Laura Eisenhower, such conflicts that would hide under the Second World War continue today. Only, at the moment, much of that fighting takes place "behind the scenes".
Laura Eisenhower elaborates further that "there is this whole other reality going on that we don't hear about. These timelines and the deeper history connected to secret societies, (in turn), connect to these deeper ET agendas. And have been around for thousands of years!"
It is an interesting, if sobering thought. That much of human history is merely the result of extraterrestrial conflicts dating back to the dawn of time. Conflicts between rival races, even rival factions within the same race. How long has this clash been going on for? Perhaps it goes back not just to the pre-history of the Earth. But to a world far away. And so long ago it is practically impossible for us to even begin to imagine going back so far.
A lot of the above sounds like the blurb to a science-fiction film. Maybe we should consider our next points. The blur between science-fiction and science and history fact, might be smaller than we think. We see, for example, plenty of instances of "real life" emulating science-fiction. There is the old concept that whatever the collective mind can conceive the same collective mind can create. Perhaps we should ask why real life imitates art as it does? Maybe art is simply preempting life?
Earth Alliances – More Fact Hiding As (Science) Fiction?
Like many other researchers, we have argued on several occasions in various ways that, on occasion, fact is hidden deep within fiction. The reasons for this, assuming this notion is true, are many. For example, it allows those who possess secret knowledge to preserve it without drawing attention to themselves. It also, though, allows those in authority to attack certain people. To state that whistleblowers or researchers are obviously "influenced" by the movies. Or by science-fiction, if they happen to get too close to the truth and shout about it publicly. This was the case in our recent case study on the Betty and Barney Hill abduction, for example. One of the main detractors from the case would highlight an episode of The Outer Limits. The show would air several weeks before the incident. And would feature "grey-skinned aliens". Skeptics would state had influenced their "confused and tired minds".
We have examined before the apparent secret channeling sessions known as "Project Penguin". These would take place in 1952. And would be under commission and finance of the United States government. Or at least a shadow element of it. During one of these channeling sessions Indian mystic, Dr. Vinod, would make contact with an entity that would call itself "The Nine". It was, the presence would state, an eternal presence who watched over humanity. The entity also went by the name "Atum". What is interesting here, is that Atum was the Father God of ancient Egypt. And, incidentally, one of nine original creator gods.
The Private Round Table Foundation Sessions
The sessions were led by Dr. Henry Puharich, who would continue such channeling through his own organization the "Round Table Foundation". He would attract many rich and influential people. All of whom wished to make contact with "The Nine" to seek its wisdom. One of these influential people was Gene Roddenberry, the eventual creator and writer of the Star Trek series. Is it coincidence that such a show, highly advanced in ideas compared to other shows of its era, should produce titles such as "Deep Space Nine" in later Star Trek movies.
As previously mentioned, this could be a way of preserving knowledge. Or, particularly in light of some of the admittedly outrageous suggestions above, "factual stories" in anticipation of the occasional "crazy" whistleblower who has watched one too many episodes?
Perhaps it is worth reminding ourselves once again of the line passed between (then) US President, Ronald Reagan to Steven Spielberg. Of how hardly anyone realized how true such films as ET had to them. Perhaps we should look at some of the authentic scenes in another of Spielberg's classic works. Maybe we should look at "Close Encounters Of The Third Kind" again.
There is a modern example. At least according to those who claim to possess insider information. The fictional organization, the Earth Alliance in the show "Babylon 5". This is similar to a world government that has come together for the overall good of the planet. And to defend against an outside threat. According to whistleblowers, there is a reason for the creation of this "fictional organization". This is for an automatic ridiculing of any researchers who discover the presence of this very real organization.
In fact, this particular claim is a good example of the  blurring of the lines between apparently different conspiracies.
An Outlandish Notion, But Worth Keeping On The Backburner!
According to the conspiracy, as painted by whistleblowers and leaked information, the Earth Alliance came into force in order to tackle the influence of a wealthy and influential cabal. A cabal that some refer to as The Illuminati who are under Draco control. What they are essentially describing, again if we buy into the conspiracy, is reptilian entities. Reptilian entities who have assumed positions of power and influence. And furthermore, much like the Reptilian Conspiracy, the reasons for this is to assume absolute control of the Earth. And more specifically, its resources.
While, like many of these claims we should treat them with much caution, particularly as even within their own circles there is a tendency for these accounts to shift in order to suit personal agendas, it should certainly make us wonder where the root of these claims come from? How much truth resides within these seemingly absurd conspiracies that to most people are bordering on nonsense?
They are ideas that are certainly worth keeping on the backburner. At least for now. At some stage in the near or distant future, whatever kernel of truth might be within these nonsensical conspiracies may prove to be very valuable. Particularly when we consider one of the more high-profile cases. Ones that very much connect to the idea and seemingly crazy talk of secret space programs.
NASA or NON-NASA?
The opposite of which is what you might call the public space program run by the USA's National Aeronautics and Space Administration (NASA) — Gemini, Apollo, Space Shuttle, International Space Station, Mars Exploration missions, etc. — and, latterly, by the European Space Agency (ESA).
Although founded on earlier military space programs, NASA was inaugurated back in 1958 chiefly as a civilian, not military organisation. However, even after this, the United States Air Force (USAF) carried on operating parallel covert space programs largely unknown to the public. These are often referred to as "black projects".
For example, there was the X-20 Dynamic Soaring vehicle or "DynaSoar" project (pictured above), a multi-purpose, reusable space plane — in some ways a smaller, less sophisticated version of the later Space Shuttle. Started in 1957 and designed for reconnaissance, satellite maintenance, bombing, and sabotaging enemy satellites, it cost around $5.1 billion in today's money but was discontinued in 1963 just after construction began.
Then came the USAF's successor to DynaSoar, the Manned Orbiting Laboratory (MOL), to which crews would be transported to and from Earth using a Gemini B spacecraft, derived from NASA's Project Gemini. The MOL project was started in 1963 but was canceled in 1969 amid the Apollo program.
The Space Program That Wasn't – Project Horizon
You almost certainly won't have heard of Project Horizon, either. It was a highly ambitious $6 billion project by the U.S. Department of the Army to develop a moon base manned by 12 soldiers and provide a base for exploration and potential military operations. A lunar vehicle was to shuttle 16 astronauts to the base and back. Started in 1959, it didn't, however, progress past the planning stage in an official capacity.
And it's highly unlikely you'll know about this: A New York Times article published on August 7, 1989 with the headline:
Military's Secret Star Trek Is Over – Billions Wasted On Complex – and Shuttle
It went on to report:
The Defense Department is dismantling a secretive, coast-to-coast space complex that cost at least $5 billion and was intended to operate in collaboration with the civilian space shuttle… Over the last three years, the department has mothballed a $3.3 billion spaceport in California and scrapped a sprawling control center in Colorado. Last year, it disbanded a secret cadre of 32 astronauts based in Los Angeles.
This announcement appeared in just one newspaper, until when, the existence of what was a massive space project was totally unknown to the public. If this could not accurately be described as a secret space program, then what?
More Black Budget Connections
Some multi-billion-dollar black projects have been so secret that not only have the public been completely unaware of their existence, so has the U.S. Congress. A lot of aircraft have been developed, built and operated in total secrecy.
Perhaps more familiar in recent times is the single-seat attack aircraft, the F-117 Nighthawk. Developed by Lockheed's mysterious Skunk Works, it was the first operational aircraft to be built around the new stealth technology. Its maiden flight took place in 1981 but it was shrouded in secrecy until it was disclosed to the public in 1998.
The Nighthawk has been withdrawn from service but had you witnessed one speeding across the sky, you'd have been forgiven for thinking it was a UFO, such was its unconventional shape. But it was still conventionally powered by two jet engines. Since the early 1990s, though, sightings of a very UFO-like craft have been reported that's radically different and you'd swear on your life was not man-made. It's triangular; it has no jet engines; it runs silently; and it can hover. Codenamed Astra, it's known as the TR 3-B 'Black Triangle'.
It's believed to be the most exotic vehicle of the Aurora Program, operated not by the USAF but by the National Reconnaissance Office (NRO), the NSA, and the CIA. Its technology is far in advance of anything imaginable, suffice to say it has a nuclear reactor and a Magnetic Field Disrupter that generates a magnetic vortex field which interrupts gravity, reducing the craft's mass by 89 percent. It can fly at Mach 9 (about 7,000 mph) and outperform and outmaneuver any conventionally engineered aerial vehicle. Check out this link if you're interested in its 'exotic' physics.
Connections To UFO Waves?
A triangular craft famously caused the so-called 'Belgian Flap': mass sightings in Belgium over several months, starting in November 1989.
If this craft were officially disclosed today, it would have been kept secret for at least 27 years. Most sightings of the TR3-B occur at night. Here are a couple of witnesses' clips shot with a night-vision camera:
So from all this, it's not unreasonable to hypothesize that what we the public see as the extent of space missions is only part of a much, much bigger, largely hidden picture. Moreover, 57 years after the birth of NASA — and 67 years after the famous Roswell incident when crashed alien craft were first recovered — hypothesize that the Secret Space Program has acquired and back-engineered highly advanced UFO technology and incorporated it into its own craft. Even more reason to keep a tight lid on the truth of what we've got 'out there'.
Could what's 'out there' actually be sufficiently advanced that we have the capability to run a fleet of interplanetary spaceships and a secret base on the moon, as many believe?
Hiding on the Backside of the Moon
One whistleblower who came forward very publicly with persuasive evidence of a moon base is former USAF Sergeant Karl Wolfe, a witness for Dr. Steven Greer's Disclosure Project in the early 2000s.
He was an electronics expert with Top Secret clearance at Tactical Air Command at Langley Air Force Base in Virginia. On one occasion in 1965 he was assigned to do some equipment repair at a facility run by the National Security Agency (NSA), the spying organization responsible for collecting and processing data (equivalent to the UK's GCHQ) where they were processing images from the lunar orbiter. Although Wolfe thought it was NASA, not the then relatively unknown NSA.
While he was there, he spoke with another airman about how they were obtaining these images and at one point the airman said: "Oh by the way, we've found a base on the back side of the Moon." Wolfe became anxious. He knew he wasn't cleared for this information and it could land him in a lot of trouble.
The airman then brought out the images of the far side of the Moon on contact prints and showed them to him. According to Wolfe, they depicted geometric shapes, towers, spherical buildings, something that looked like radar dishes and other large structures. The experience worried him so much that he didn't discuss it for more than thirty years until he broke his silence in the late 1990s.
Of course, there's no way to validate who actually has title to that lunar real estate, so it remains an open question: Did what Wolfe see belong to us or did it belong to … shall we say… another species of 'settlers'?
Gary McKinnon, Engineer Of The "Biggest Military Computer Hack Of All-Time!"
In more modern times, Scottish hacker, Gary McKinnon is perhaps one of the most famous names. Certainly when it comes to secret space conspiracies. In 2002, McKinnon would face arrest at his home on behalf of American authorities. They would immediately seek his extradition for engineering "the biggest military computer hack of all-time".
McKinnon, an IT engineer by trade, had indeed gained access to government files. Under the name "SOLO" he found himself on servers and systems run by the CIA and NSA. He was looking primarily for information on "suppressed free energy", although information on UFOs was also of interest to him. He would state that "there are some very credible, relied upon people, all saying, yes, there is UFO technology. There's anti-gravity. There's free energy. And its extraterrestrial in origin, and (they've) captured spacecraft and reverse engineered it".
He would even claim to have witnessed one of these otherworldly crafts himself. While making his way around the top-secret files of the United States intelligence services. He would describe this "cigar-shaped" and "something not man-made".  Unfortunately, in part due to unclear thinking due to the absolute sheer amount of time he was spending searching around such files, he would neglect to capture an image of the image.
McKinnon's further research would suggest that at the Johnson Space Center, at "Building 8", images are "cleaned up". They are essentially stripped of any objects or space crafts. Or, for that matter, anything else that US authorities don't want the public to see. McKinnon would claim to have seen folders labeled "Raw" and "Processed". These would appear to contain images with UFOs clearly in them. And then the same images with such objects "removed".
OK, So Just What Are "Non-Terrestrial Officers?"
Perhaps even more intriguing, were the claims of a folder marked "Non-Terrestrial Officers". He would state during an interview with "Project Camelot" that "That phrase is nowhere to be found on the web. Or in any military documentation. The other thing (I saw) was a list of ship to ship and fleet to fleet transfers. Bear in mind, 'fleet to fleet', so multiple ships, of materials".
This is a truly remarkable piece of information. The United States government would pursue McKinnon for close to a decade. We have to wonder just what such a term as "Non-Terrestrial Officers" actually means.
He would state following his arrest that he had got onto such secret servers. He would use a "perl script", which would search for blank passwords. To his amazement, he found many blank passwords right across such apparently secure and secretive server.
There was substantial fear that McKinnon would face the rest of his life in jail in the United States. Some rumors would even state he would go to Guantanamo Bay. He would fight the extradition order, and with the help of (then) Home Secretary, Theresa May, would have the extradition blocked. She would state that, "Mr. McKinnon's extradition would give rise to such a high risk of him ending his life that a decision to extradite would be incompatible with Mr. McKinnon's human rights".
It is perhaps interesting to note that the public opinion on the matter was largely in favor of McKinnon. May, however, was the only politician of real influence to truly champion his cause.
Check out the video below. It features McKinnon speaking about what he saw and his experience in general. As well as what he thinks the US authorities are actually hiding from the rest of us.