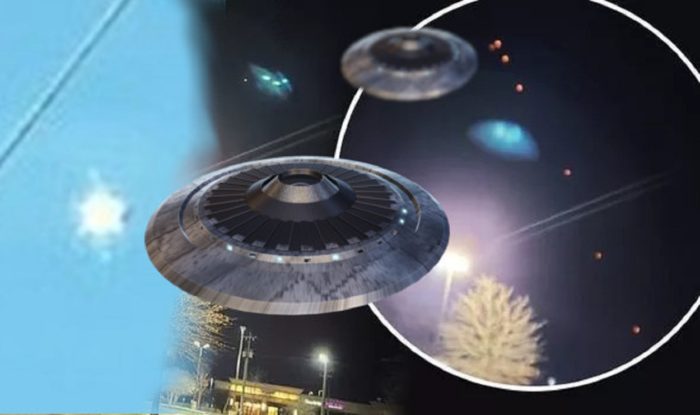 We start 2021 very much in the same way we began 2020 – with an apparent expectation of a huge release of information combined with an admission of prior knowledge about the existence of UFOs and alien life. Essentially, "disclosure".
Of course, whether that disclosure arrives remains to be seen. However, sightings of strange lights and objects in our planet's skies have continued over the first four weeks of the new year, suggesting that 2021 will indeed be a busy year for all things UFO-related.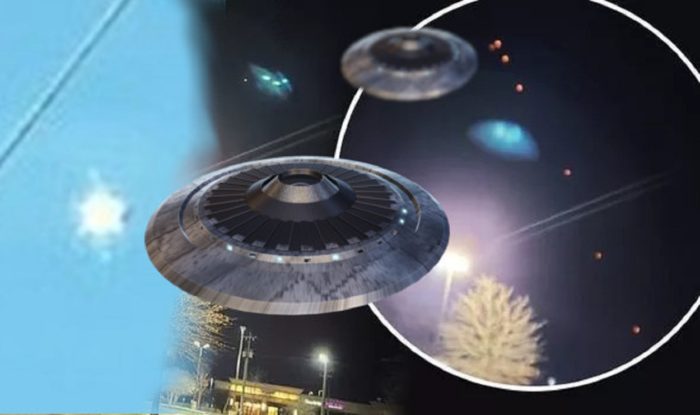 March
As 2021 progresses, so does the apparent anticipation of more releases of information as to what might be behind UFO sightings. And while we should note, there is nothing solid to suggest any type of disclosure in the immediate future, sightings continue to take place, and perhaps more importantly, interest in them seemingly continues to grow. Perhaps whether that general interest results in more sightings or more sightings stoke such interest is an intriguing notion in itself.
From glowing spheres to cigar-shaped objects, bizarrely moving lights, and even more celebrities revealing their UFO sightings, March 2021 has been as active as the first two months of the, at the very least. And if the opening quarter of 2021 is anything to go by, we can expect such sightings to continue in abundance as the year unfolds. And, of course, you will read about them here first.
We will start, though, as usual, with several sightings that occurred the previous month, but have only been reported within the last four weeks. In fact, one of them, as we shall see in a moment, occurred over half a decade ago involving a (then) active NFL athlete. Before we turn our attention to that recently revealed encounter, we will go to the appearance of strange lights over West Virginia in mid-February.
Strange Lights Appear Suddenly Over Huntington, West Virginia, 22nd February
Although it wasn't reported until the first week in March, video footage of four blinking lights over Huntington in West Virginia at around 9 pm on the evening of 22nd February.
On the night in question, the witness had stepped outside for a cigarette after eating dinner. As they smoked, they happened to look up to the sky. The witness claimed they "thought out loud" that "if you guys are out there, then why won't you show yourselves?"
Then, as if in response, the strange lights appeared. The witness managed to capture around a minute of footage. They also went on to claim in their report, that both his wife and his mother have had "many sightings", with his mother actually "blacking out" and going missing for around six hours. She still has no memory of the incident (other than something happened) and apparently still has "night terrors" due to it.
What is interesting here is that this suggests continued monitoring of sorts of an entire family over several generations. This is something that comes up a lot in alien abduction accounts. And perhaps that the lights seemed to appear in response to the witness's statement might also suggest some kind of subconscious communication.
You can view that footage below and make up your own mind.
The Recently Revealed UFO Account Of Former NFL Player, Nate Burleson (Early 2013)
Another sighting that occurred some time ago – in this instance in 2013 – but that has only recently come to light is an account of the former National Football League (NFL) wide receiver, Nate Burleson, who would tell Sports Illustrated of the encounter at the start of March.
Burleson claims it was at the start of 2013 when the sighting happened (after the completion of the 2012 NFL season) and while he was playing with the Detroit Lions. On the night in question, Burleson had been out for the evening with his wife. It was somewhere between 10:30 pm and 11 pm, while the couple was driving home when the one-time NFL player noticed "some lights off in the distance".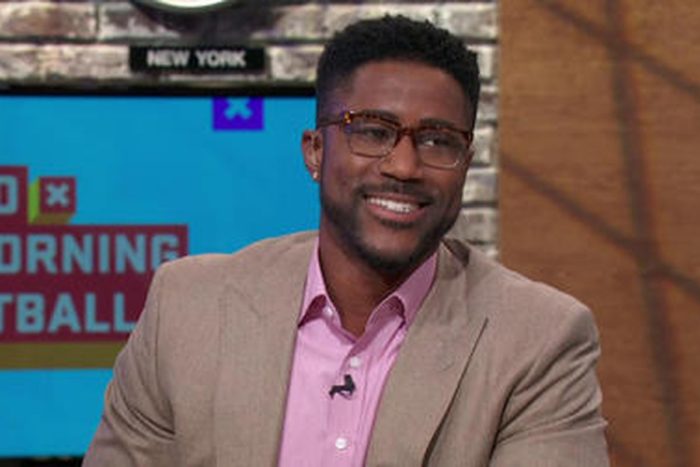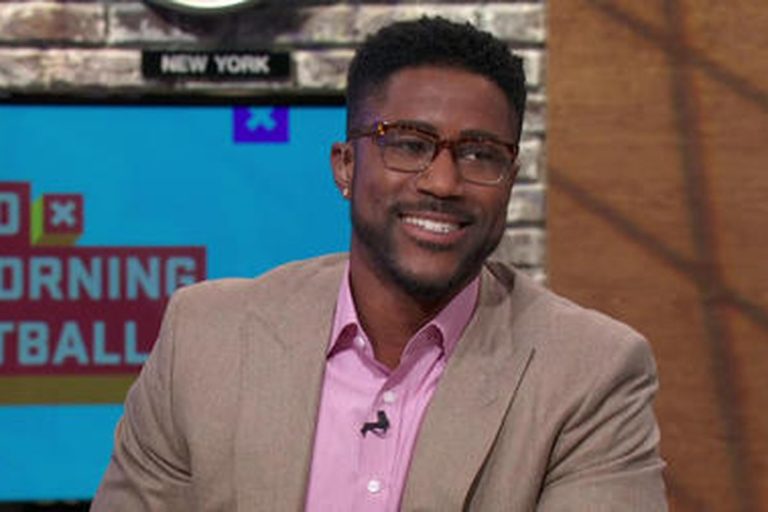 At first, he believed he was witnessing two helicopters, even asking himself why they were flying so close to each other. He would estimate the display was around five to ten miles away from him. He continued on, allowing his focus to keep returning to the strange lights. However, after several moments, more lights suddenly appeared. At this point, Burleson brought his car to a stop, got out of the vehicle, and reached for his phone.
As he began recording, the lights began moving in a "zig-zag formation" before moving into a "squiggly line". He also noticed how, despite the approximate distance, the lights appeared to make no noise whatsoever. As this was happening, perhaps a little unnerved, Burleson's wife urged him to return inside the vehicle. However, enthralled with what he was seeing, he remained where he was.
Suddenly, the lights appeared to "drop to like a cloud height" and remained "sitting there" for several moments. Then, without warning, Burleson witnessed the light "take off into the distance".
Burleson, who claimed that he had "always known aliens exist" has no doubt as to what he witnessed that winter's evening in 2013, adding that "you got to be foolish to think we are the only beings in existence".
Although there is no footage (at least publicly available) of Burleson's sighting, as we will examine shortly, another UFO incident of March 2021 features another NFL player. Before we examine that sighting, however, we will turn our attention to an incident that took place over Las Vegas.
Strange Series Of Lights Over Las Vegas, 1st March
On the evening of 1st March, at around 7:30 pm, hundreds of local residents witnessed a bizarre row of lights appear over the skies of Las Vegas. And what's more, the witnesses would come forward from all sides of the city. After around half a minute, things turned even stranger when the glowing orbs seemingly "switched off", one by one.
Within minutes videos and theories as to what the lights might have been were pouring from social media platforms.
As we know, Las Vegas is no stranger to bizarre UFO sightings, and this one would appear to be no different. The lights appear to be the side or front of a solid object with at least partial triangular dimensions to it. In fact, they have a slight similarity to the famous Phoenix Lights episode of over two decades ago.
If this was a solid object was it extraterrestrial in nature, or might it be a top-secret military vehicle? Perhaps the detail of the lights "switching off" one at a time is most intriguing. There are many similar UFO sightings over the years that feature this claim. Are they literally being turned off? Or might they be simply vanishing from our realm of existence?
You can view that footage below and see what you think.
NFL Quarterback Baker Mayfield Claims UFO Sighting On Twitter, Cleveland, 4th March
During the early hours of 4th March (at 4:40 am to be precise) current Cleveland Browns and NFL quarterback, Baker Mayfield unleased a tweet. And it was a social media post that would cause quite a stir in the Cleveland community.
According to Mayfield, he was "almost 100%" that he "just saw a UFO drop straight out of the sky". The quarterback would claim he, and Emily Mayfield, were on their way home from dinner when they witnessed the bizarre aerial display. He would go on to describe it as a "very bright ball of light" that was "going straight down" and appeared to be heading toward Lake Travis. He would finish his tweet asking if anyone else had witnessed the bizarre object.
He would receive several responses. One Twitter user (David) would claim he thought he "was the only one", further stating that he lived on Lake Travis and he had witnessed the same thing. Others were more skeptical, searching for more rational explanations.
The short video below is just one of the news reports of the apparent sighting.
Silent Bright Object Over Hudson, Maine, 9th March
A particularly intriguing incident unfolded at just before 9 pm on the 9th March over Hudson, Maine, when a local resident noticed a strange motionless light in the distance.
They would claim they saw what appeared similar to "a car's headlights at a low elevation" and that they appear to be simply "sitting" or hovering there. When a bank of cloud passed over them, the witness realized how bright they had to be as they shone "outward through the cloud". As they continued to watch them, they began to make out more details.
For example, over the left light was "a continuous strobe" making them temporarily think that they might belong to a helicopter. However, despite the slow (helicopter-type) speed with which they began to move, the complete lack of sound made the witness all but dismiss this idea.
Suddenly, the lights simply disappeared as though someone had turned them off. The witness even took it upon themselves to check flights from the nearby Bangor International Airport. However, official records showed that there were no flights in the area at the time of the sighting.
Unfortunately, there are no photographs or video footage of this incident.
Band Of Light Photographed Over Cle Elum, Washington, 11th March
Just before 5 am in the early hours of 11th March in Cle Elum in the state of Washington, a local resident witnessed a "light band" moving at a consistent speed and in a purposeful direction. They couldn't hear any sound coming from the objects, perhaps suggesting that it wasn't an airplane or other terrestrial aircraft, with the witness estimating that it was traveling at around 40,000 feet and quite possibly traveling at around 1,000 miles per hour.
As with other similar sightings of this nature, many skeptics will argue that this object is nothing more than star-link satellites. However, it appears that this is very much a solid object as opposed to a string of lights. What's more, there was also an almost identical sighting in nearby Chehalis at around the same time. According to the witness of that sightings, the band of light resembles something akin to a ladder.
You can see a picture of the Che Elum sighting below.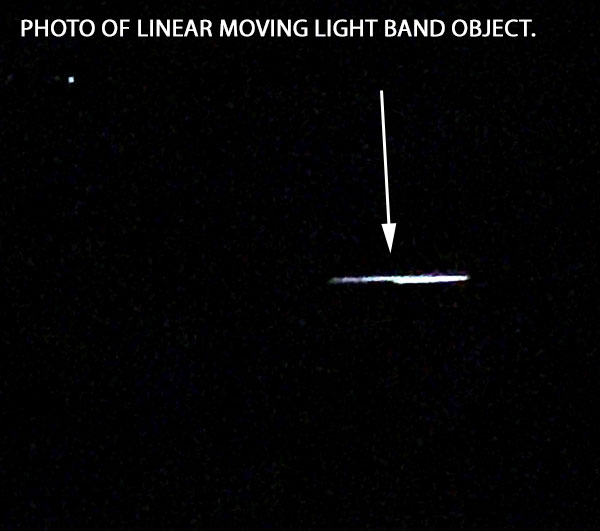 Disc-Shaped UFO Captured On Deer-Cam, Orlando, Florida, 13th March
An intriguing sighting of a disc-shaped object was captured on Deer-Cam in Orlando, Florida in the early hours of 13th March. The footage – which captured with a field camera that the witness claims were around five feet from the ground – sees a deer feeding on the grass when the bizarre object goes past.
It appears the animal was largely unaffected by the object's presence, leading the witness to conclude that not only did the apparent craft pass by at high speed, but it likely made no sound whatsoever.
You can view that video footage below.
Black Object Caught On Film Over Markleeville, California, 14th March
MUFON case 114334 features a solid black UFO that was captured on film by the witness over the mountains in Markleeville in California on the evening of 14th March. The sighting occurred at around 7 pm on the night in question when the witness suddenly noticed the strange object purely by chance from the corner of their eye.
At first, they claimed they thought it was nothing more than a bird. However, when they put it in perspective with the background and surroundings, they realized that it was "way too big" to be so. Realizing they were witnessing something a little strange, the witness immediately reached for their phone so they could film the incident.
As they were doing so, they realized there was no sound whatsoever coming from the object, and so they dismissed any notion that it was a terrestrial aircraft. And the fact that the strength of the wind meant it was highly unlikely to be a glider or a paraglider. In fact, the witness recalled that at the time of the sightings, a "significant storm" was heading toward the region. However, the object "maintained its path" suggesting it was very much solid.
Even more intriguing, the witness claimed they could see a "mist or aura" around the object as it moved. What's more, as it went along its way, it appeared to be turning as it was flying, perhaps rotating on its own axis.
The footage is certainly some of the most intriguing of recent months, which you can view that video below.
Bright "Fireball" UFO Over Peachland, British Columbia, Canada 17th March
On the evening of the 17th March, in Peachland, British Columbia in Canada, a bizarre "fireball" object lit up the night skies drawing the attention of local residents, one of which – Jay Balehowsky – managed to capture several seconds of footage of the anomalous craft.
Balehowsky claimed he had gone outside in order to empty the garbage when he saw the strange object. Not only was it glowing brightly but it "seemed like it was kind of circling around" in the sky above. Then, however, the object began to "break up" and began heading in their direction. While some of the objects "burned out", a large piece fell completely in one of their neighbor's yards. Although Balehowsky wasn't aware that the fallen object had sparked a significant blaze at that time, he claimed to have immediately jumped into his truck in order to find the downed object.
The local fire service eventually located the blaze and went about snuffing it out. Although there were no reported injuries, some of the surrounding buildings did suffer some damage, including the melting of vinyl siding on one house.
Perhaps fanning the flames of speculation were the comments of the fire chief who attended the situation, Dennis Craig, who claimed that he was not convinced that what fell to Earth was a meteorite. He would state to local media that "rocks (don't) remain combustible too long" and that it was his opinion that it was unlikely a "hot rock would cause a fire like that". He would add that meteors "show the flame" as a result of friction with the atmosphere. However, once they cease movement, "they don't support combustion".
Craig also witnessed the video captured by Balehowsky and stated that it "clearly shows something at a high altitude that fell from the sky", adding that in over two decades working with the fire department, the incident was "a first" for him.
According to initial investigations and official reports, the incident has been treated as "undetermined". The two videos below report on the incident a little further.
Strange Lights Over Pie de Palo, Argentina, 17th March
When a group of local residents noticed strange lights over the town of Pie de Palo in the San Juan province of Argentina, they would report the phenomena to local UFO investigators who immediately began "skywatches" in order to try to capture the strange anomaly on film, which ultimately, they did.
It is unclear whether the lights are individual entities in their own right or part of a larger craft. They are, though, extremely intriguing, as is the footage that has been captured which you can see that video below. Investigations in the region, incidentally, continue.
Triangular Lights Over Toronto, Canada, 20th March
On the evening of 20th March, at a little after 9 pm in Toronto, Canada, a local resident and his girlfriend noticed "several glowing orange-red orbs" that appeared to be in a distinct triangular formation moving across the sky.
The light appeared to hover for several moments, before moving away from the witnesses and disappearing behind several trees. At this point, the couple went outside of their house in order to relocate the bizarre sight. When they did, they spotted "three glowing orbs in a triangle formation" behind where they stood.
They remained watching the lights for several moments, remaining completely silent as they did so. After several minutes, the lights eventually disappeared into the distance.
You can see this fascinating footage below courtesy of veteran UFO researcher, Scott Waring.
Zig-Zagging Object Over Arcata, California, 21st March
Although there are no photographs or video footage of the incident, an intriguing sighting occurred in the early hours of the 21st March in Arcata, California. At around 2 am in the night in question, a local resident was sat in their car with their partner, watching the sky and highlighting stars. The witness spied what they at first thought was a particularly bright star. However, when it began to "dart" and "zig-zag" around, they realized they were seeing something a little more out of the ordinary.
They continued to watch the strange light as it moved through the sky, noting that the sharp turns and rapid circular motions meant it was highly unlikely to be something such as a satellite. The two witnesses continued to watch the light for around ten minutes. However, when they looked away for just a second, it simply disappeared.
While there could indeed be a rational explanation for this sighting, there are many other similar sightings that have surfaced over the years of star-like lights that suddenly begin to move in rapid zig-zag-type motions suggesting they are indeed something strange.
Strange, Bright Lights Over Lake Michigan, Chicago, 21st March
A bizarre sighting of strange lights over Lake Michigan in Chicago was captured on film from an apartment window in the Windy City on not one occasion but on two consecutive nights.
The lights can be seen hovering over the lake, occasionally moving toward the water. What is also interesting about this sighting is that, on occasion, the reflection of the lights could even be seen on the surface of the water. This would suggest that the footage was not the result of some kind of trick of the light, but of a very real, solid object.
The witness claimed that they "honestly did not know what they are" but that they appeared on two consecutive nights. And given that they were filmed from the same location on each occasion suggests that the lights appeared in almost the exact same place.
You can view each of those videos below as filmed by the YouTube channel Of Mice and Mandrakes 100.
Brightly Lit Sphere Over Ushuaia, Argentina, 22nd March
While recording a live webcam of Ushuaia in Argentina, UFO researcher, Gina Maria Colvin Hill, manage to capture a brightly lit sphere moving through the skies over the bay area. Perhaps an indication that the sphere was very much a solid object are the reflections of it that can be seen, at times, in the water itself.
What's more, the general movement of the object suggests that it is not a terrestrial aerial vehicle such as an airplane or a helicopter.
This location is one of the furthest south in the country, and given the (relatively) short distance from here to Antarctica (which has a long history of UFO conspiracies connected to it), the sighting is indeed an intriguing one.
You can view that footage below, which is most definitely one of the most intriguing pieces of UFO footage of the last few weeks.
Father And Son Several Bright Lights "Dancing" Over Southaven, 24th March
On the evening of 24th March in Southaven, at around 10 pm while getting something out of his car, local resident, David Howell saw several bright lights that he would describe as "dancing" in the sky above. He immediately called to his father, James, to come outside and see the bizarre orbs also.
Between them they counted a total of 10 different lights, each seeming to move of their own accord. And what's more, because of their apparent size, each felt it was unlikely that they were drones. James would recall that "one of them was a lot bigger than the other nine", and that they would "change positions" seemingly moving very purposely and with intelligence.
Although the neighborhood where the sighting was witnessed from is (relatively) close to Memphis International Airport, David believes that what he and his father witnessed was almost certainly something out of the ordinary, offering that he now "finds it hard to believe we are alone".
Although the local police were informed of the strange sighting, they would offer that they had received no other reports. At the time of writing, this would appear to remain the case.
Strange Lights Over Richland, Washington, 25th March
At a little after 9 pm on the 25th March in Richland, Washington, a local resident managed to capture several seconds of footage of strange fireball-type lights heading overhead.
The witness filmed the footage near their home after first noticing the strange string-like lights in the night sky. After watching them for several moments, the lights simply "died out", leaving the witness to state they were the "most bizarre thing" they had ever seen.
Some who have viewed the footage claim they are nothing more than star-link satellites, an assessment that could prove to be very accurate. However, as one researcher pointed out, the fact that we can see one of them seeming to "blink" perhaps suggests that they are a little too bright to be merely satellites.
You can view that footage below.
Glowing Objects Captured On Video Over Ceccano, Italy, 27th March
On the evening of 27th March in Ceccano, Italy, a local family who watching the skies from a mountaintop, noticed two strange lights moving around above them. As they continued to watch, the objects began to descend, eventually being so low that they were just above the treetops in the distance.
Eventually, after several minutes the two objects moved back away from the location and disappeared into the distance. They way they moved does indeed suggest an intelligently guided craft and not simply balloons or lanterns. Whether they are of extraterrestrial origin, of course, is open to debate.
You can view that video footage below.
Multi-Colored Object Over Kentucky, 29th March
Just before midnight on the evening of 29th March in Salyersville, Kentucky, a glowing object that appeared to change color several times was witnessed and filmed by a local resident.
In the video clip, filmed on Route 40, you can hear the witness claim that the object was "weird" before going on to state how it was "changing (from) blue, to green, to yellow". The continues to narrate the sighting, stating that "this is a UFO, an unidentified aerial phenomenon". The witness can also be heard describing the object as being "like a rainbow" as it continued to change colors.
The witness would estimate that the object was approximately 15 to 20 miles from their position, as well as stating that this "is something I have been seeing a lot".
You can view that video below.
Strange Moving Light Over Lake Charles, Louisiana, 31st March
According to MUFON report 114498 a local resident of Lake Charles, Louisiana managed to capture footage of strange moving light over the city.
The witness claimed they were simply speaking on their phone outside on the night in question when they noticed the strange light heading in their direction. It appeared to "do some pretty incredible acrobats" as it approached and made no sound whatsoever.
The witness also recalled how, despite the evening being particularly windy, the light appeared to be unaffected by the gusts suggesting it was not a balloon or lantern of some kind, but an intelligently guided craft. The witness estimated that the object was traveling at an approximate altitude of around 3000 feet. However, as they watched the light, they realized it was descending toward them. It would, however, disappear temporarily behind the clouds, before coming to a hovering position once again, this time at an altitude of around 2500 feet.
The witness noticed how the light would change color slightly, almost in sympathy with its movements and went "from a deep barely visible red, to a brilliant white". This is an interesting detail as such notions of a connection between color change and movement in UFO encounters has been noted in other cases. For the majority of the time, though, the color was yellow.
The witness would further describe the movement of the lights as "effortless" while the speed was much too fast to have been a drone. Perhaps of further interest is that the witness claimed that they had seen similar lights before over the city.
You can view video footage of the incident below.
Daylight UFO Spotted Over Argentina, 31st March
Although there is no footage available, a group of cyclists did manage to capture several pictures of a strange disc-like object over a trail in Malargue in Argentina. And what's more, they did so completely unaware until they looked back through their pictures later and spotted the aerial anomaly after intending to capture the landscape.
Once the pictures were made available to the public on social media sites, an avalanche of possibilities were raised as to what the object might be. And while some people were insistent that the cyclists had definitely managed to capture something otherworldly, others insisted that there had likely just been dirt on the lens of the camera.
What is perhaps interesting about this picture is that around a decade ago several similar pictures were captured of a very similar flying object. This, to some UFO enthusiasts, is perhaps proof that there is a definite extraterrestrial presence in this part of South America.
You can see one of those photographs below and make up your own mind.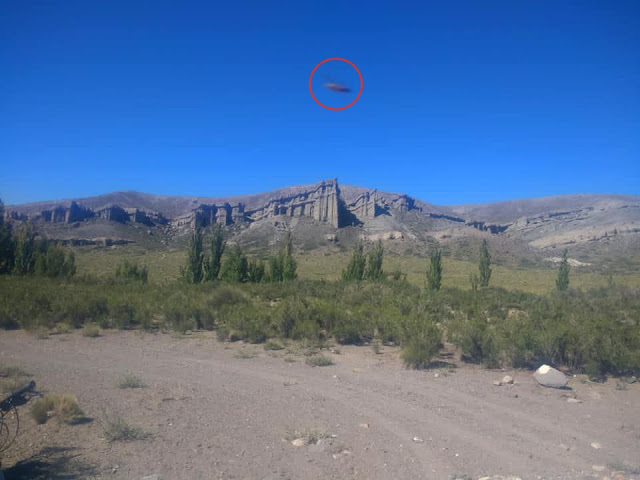 Glowing UFO Over Illinois, 31st March
A particularly intriguing UFO sighting was caught on film on the evening of 31st March in McHenry in Illinois. The witness was at an intersection when they suddenly saw a strange, yellow, glowing object in the skies above them.
They would describe the object as a "single, fiery, orange glow" which was mainly "round in shape". However, they would elaborate in their report to MUFON that "the bright area within the round shape was not consistent in its position or intensity". They would state that this middle section "flickered like a fireplace or a lantern".
Although the object moved at a similar pace to a low-flying airplane, the light "looked nothing like" those you would expect to find on a plane. The witness also dismissed that it was a meteorite due to its purposeful movements. They would estimate that it remained in sight for approximately 30 to 45 seconds before disappearing into the distance.
You can view the footage captured by the witness below.
February
February was witness to many varied UFO sightings all around the world. And like previous months and years, the variety of the sightings is matched only by the intrigue they generate. From sightings of strange orbs rising rapidly into the atmosphere, disc-like objects emerging from the clouds to fleets of UFOs hanging over busy cities, February has once again played host to various aerial anomalies in our collective skies.
As always, however, we begin our round-up with a look at some of sightings that occurred last month but have only recently been reported in the last few weeks, the first of which features the previously mentioned UFO fleet.
UFO "Fleet" Captured On Video, Lehigh, Florida, February 2020
Perhaps the eldest sighting only recently reported is MUFON case 113798, which while unfolding on February 2020, has only just entered the public domain. The sighting is particularly interesting in that it appears to show many different lights – described as a "fleet" by some UFO enthusiasts – that are clearly visible in the night sky.
The witness would claim that they had just finished work for the evening when they noticed "all these orbs just stationary in the sky". What's more, some of these objects would "disappear and reappear". Realizing they were witnessing something out of the ordinary, the witness reached for their phone and shot around a minute of footage. They would state, however, that despite the extraordinary nature of the incident, they were "in a hurry to get home" and had to turn their mind to the journey.
Once more, if we take note of the location, is this another sighting that lends credibility to the notion of secret bases somewhere under the water off the American coast? It is certainly a thought-provoking sighting, which you can see below.
Bright Glowing Object Captured On Camera Over Wasilla, Alaska, 10th Jan
Although it wasn't reported until the third week on February, a sighting that occurred in Wasilla, Alaska appears to show a bright object in the early evening skies. Captured somewhere between 7 pm and 9 pm, the witness would claim that they had seen many UFOs over the area.
This is interesting as Alaska is a relative object for such strange and intriguing sightings. Was this another one that suggests an apparent alien interest in this part of the world?
This particular sighting was of a glowing object – either spherical or disc-shaped – that, from the brightness of it, appears to be very large. As we will examine shortly, in the very same location a little over a month later, another similar sighting occurred.
You can see the picture the witness captured below.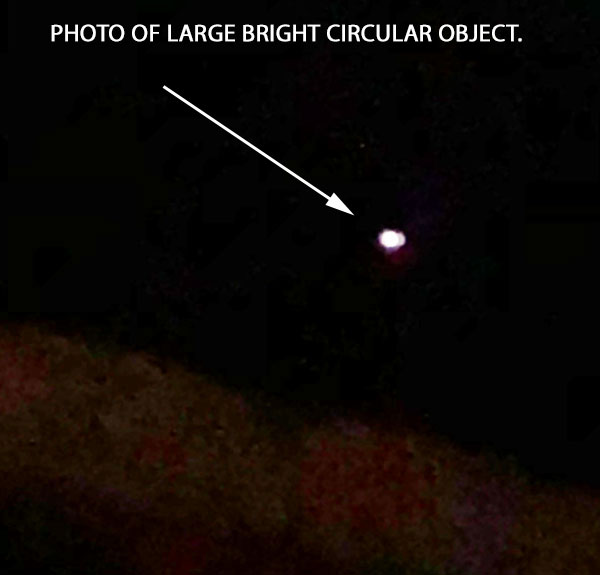 Bright Ascending Object Captured Over Montana 30th Jan
A sighting from Montana on the evening of 30th January was captured on video and appears to show a bright object ascending over the city of Ferndale. The footage was captured at a little after 10 pm and does indeed appear to show large, artificial object heading high up into the atmosphere.
The witness was at a local bar when they captured the footage, near the Swan Mountain range. While some who have viewed the video state that the object could be something due to atmospheric conditions, others believe that it shows a genuine extraterrestrial craft. One thing that all appear to agree on, though, is that it is a very interesting piece of footage.
You can see that video footage below.
Strange Object Witnessed Over Edinburgh, Scotland, 30th Jan
At around 5 pm on the 30th January in Edinburgh in Scotland, a local woman noticed a strange "UFO-like object" hovering almost directly over her home. Thew witnessed managed to obtain several moments of video footage of the object, which according to the Edinburgh Live platform (who received the report) showed a "dark object (that) flies back and forth".
The witness claimed that she had dismissed the notion that the "object" might have been merely birds due to how it "kept disappearing" and then reappearing. She did say, though, she was not sure what the object was, but that birds, in her opinion, what not have remained in such an aerial position for as long as the sighting went on for, around 10 to 15 minutes.
The witness was also certain that the object disappeared on several occasions, stressing that she meant "proper disappearing", and that the activity appeared to be taking place close to or over Edinburgh Airport. We should note that many UFO sightings have occurred near airports, many of which have unfolded in recent years. Whatever the object was on this occasion, though, remains a mystery.
Strange Trails Over Denver, Colorado, 31st January
During the morning of 31st January (according to separate MUFON reports – number 113474 and 113475) at just before 11 am, several local residents of Denver, Colorado spotted strange objects that appeared to be falling to the ground leaving trails behind them.
One witness would claim they were simply drinking their usual morning coffee and looking out of his window as normal when they noticed the strange trails. He alerted his friend who was with him and both kept their focus on them for several moments. As they watched, the witness recalled how you could "see that there as a directional change in the upper atmosphere". Furthermore, after reaching an approximate altitude of around 1,500 feet, the objects themselves appeared to change direction, heading toward nearby Buckley Air Force Base.
The witness would further state that all three of the apparent objects "maintained a perfect formation" and that they made no noise whatsoever. They eventually disappeared into the distance.
A second witness would claim that they too had seen "three large white objects" that moved at a "high rate of speed". They would also state, like the first witness, that they "maintained their formation" and that they appeared very much like "cloud tear-drops". They would claim the objects appeared to "fall" before they suddenly changed direction, heading east at a "high rate of speed". The witness would eventually lose sight of them behind the trees and buildings in the distance.
As we might imagine, there were a whole host of explanations offered for the strange objects, including that they were extraterrestrial crafts.
However, one UFO researcher, Scott Brando, would suggest in the Express newspaper that there was a "terrestrial explanation" for the sighting, elaborating that they were "contrails from three military aircraft". Furthermore, he would claim another researcher, Mick West of Metabunk, had already identified two of them as "C-17A Globemasters". We should perhaps note that one of the witnesses claimed the objects intentionally changed direction and headed toward Buckley Air Force Base. Might this suggest that they were indeed military aircraft?
What do you think? Are these merely military aircraft? Or might there be an otherworldly explanation? You can see the footage below and make up your own minds.
Strange, Glowing Object Spotted Over Coventry, England, 1st Feb
Another sighting from the MUFON files (case number 113692) unfolded in the daylight skies of Coventry, England on the 1st February.
According to the witness, they spotted a "helixical shape" while they were pruning trees in their garden. They watched the strange shape for around a minute before reaching for their phone and beginning to film it. Shortly after the did so, "another faster moving shape enters the frame" and was "moving erratically".
While this second object disappeared, the first continued along a "fairly straight trajectory". The witness's wife also saw the bizarre object along with her husband. Although they were uncertain of what the object was, they believed it was "too erratic to be a satellite" and also felt that the International Space Station (which was over the UK at the approximate time of the sighting) would not have been invisible during the day.
You can see video footage of that sighting below.
Orange, Glowing Craft Over Colina, Chile, 3rd Feb
On the evening of 3rd February over the city of Colina in Chile, a strange object was captured on video moving through the skies overhead. The object in question appears orb-like and has a gentle orange glow. The way it moves suggest that it is not a planet and it has no standard lights that suggest it is a terrestrial aircraft.
The footage itself is all we have to go on with this particular sighting as there is little other details in the public domain at this stage. Given that the sighting occurred over such a populated area it would be a little surprising if it wasn't seen by other local residents.
You can check out that video footage below.
Object Appears Out Of Clouds Over Georgia, 9th Feb
At 10 am on the morning of 9th February over Moultrie in Georgia, a local resident spotted what appeared to be a disc-shaped object in the grey, morning sky. The witness, who was visiting a local Walmart store, noticed a strange shape in the clouds and immediately went to capture the anomaly on camera and snapped off three pictures "back-to-back".
However, when the witness studied the pictures, they noticed what appeared to be an object shaped decisively like a disc. They attempted to take several more pictures in an attempt to capture the object once more. However, all they showed were the clouds suggesting that the object, whatever it was, had gone.
The witness would conclude that the object must have been "moving extremely fast" and appeared to have "come straight out of the clouds".
Did the witness capture a UFO on film by taking a picture by pure chance at the exact moment it was leaving the cloud cover and heading off into the distance and presumably very high speed? If so, we can assume that the object made no noise whatsoever as they were not aware of its presence in real time. How many other objects might be zipping around our skies without anyone noticing them?
You can check out some of those pictures below.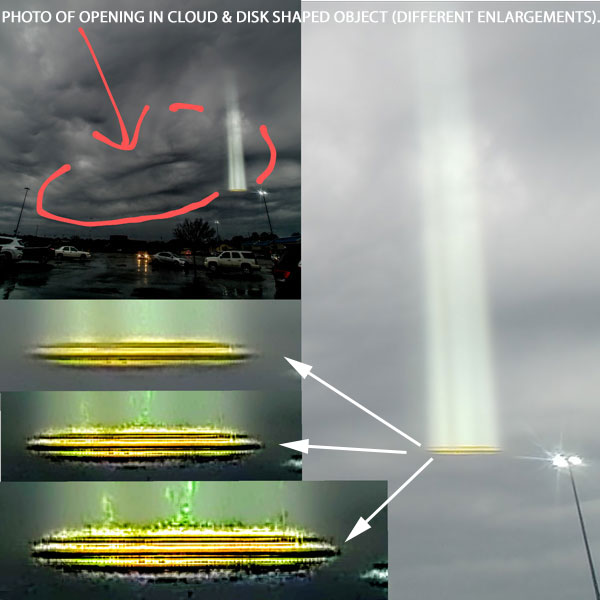 Several Strange Lights Over Los Angeles, California, 10th Feb
During the evening of the 10th February over the skies of Los Angeles in California, a local resident – Bobby Cail, managed to capture footage of several strange lights seemingly hovering over the city.
The witness claimed he watched the brightly glowing lights for several moments before reaching for his phone in order to record them. However, within seconds of the recording beginning, the lights begin to fade away and disappear, almost as if they are aware of being captured on film. While this could merely be coincidence, and most likely is, it is still an intriguing detail that we shouldn't ignore.
Whatever the objects were, they are just one of many UFO reports that come out of California. And as we shall see in a moment, around 48 hours later, a similar sighting would unfold in nearby Arizona. Before we move on to that, though, you can see that footage below.
Multiple Orb-Like UFOs Over Tempe, Arizona, 12th Feb
Only two nights later, and from another case from the MUFON files is case number 113700, a similar sighting unfolded when several strange orb-like lights appear in the early evening sky over Tempe, Arizona on 12th February.
The witness would claim that they were speaking with their wife and looking out of their kitchen window when he suddenly noticed "a group of strange lights" in the sky. He alerted his wife before reaching for his phone in order capture several moments of the bizarre scene. He would later that the strange objects moved for so long before becoming stationary, "pulsated and then vanished into the clear night sky".
At one point during the sighting, an airplane traveled in the same direction of the objects, with them seeming "unaffected by this". In fact, once the plane had disappeared out of sight, "more (objects" returned to the sky". The witness would further describe the objects as being a "reddish orange color" although the color didn't appear on the video footage.
You can see video footage of that sighting below.
UFOs Captured During Interview On RT News, 13th Feb
During a live television interview on RT (Russia Today) News, two distinctly disc-shaped objected seemingly appeared behind one of the interviewers. The objects appeared to move at a high rate of speed and appeared to move in a strict formation.
There is little further information as to what the objects might have been, as well as if there as an official reaction to the sighting. The brief seconds of footage, though, are extremely interesting.
We should note that this is not the first time where UFOs have been captured on screen during live television broadcasts. As we have examined before, these strange objects have shown up on news interviews, weather reports, and even live sports broadcasts. Once more, we might ask, given that we are not actively recorded all parts of the sky all the time, how active with UFOs they just might be.
You can see that news clipping below. The UFO enters the screen from the left.
Meteor Or UFO Over Melbourne, Australia, 14th Feb?
On the evening of 14th February in Melbourne, Australia, a local resident filmed what they believe to be a meteor falling from the sky. However, according to UFO researcher and author, Scott Waring, the footage might actually be that of a UFO descending in a controlled fashion.
Waring would state on his website that if the object was a meteor, it would likely be "moving twice as fast". Furthermore, there appears to be "no tail" that is visible. Waring also notes, that after the flash that most would suspect to be an explosion, it is clear the object itself was "still intact" before "going dark".
Was this a UFO that was entering the Earth's atmosphere? And was the flash the start of some highly advanced propulsion technology? According to many who have viewed the footage, it is, in fact, a meteor, but the debate, it would seem, is still to be had.
You can see the original footage below and make up your own mind.
Strange Glowing Orb Witnessed Over Spain, 15th Feb
Although the footage is only 20 seconds long, a sighting of a strange orb filmed over Badajoz in Spain is very worthy of our time here. The object in question appears to move slow and purposely over the region before disappearing into the distance.
The aerial anomaly also appears to have a persistent glow and a definite solid, disc shape to it. Briefly, it even appears to be rotating around its own axis (something which many UFO reports state and that has been captured on other videos before).
You can see that footage below.
Strange Object Over Cape Town, South Africa, 16th Feb
On the 16th February, local residents of Cape Town in South Africa, witnessed a bizarre green glow in the sky overhead. One resident even managed to capture footage of the strange sighting from the balcony of an apartment at the The Sentinal Luxury Apartment Building, before uploading the video to YouTube under the header "Cape Town UFO Sighting".
While there is debate as to what the strange green glow might have been, it isn't the first time in recent weeks that residents of Cape Town have witnessed strange aerial anomalies in their skies. At the start of the month on the 5th February, multiple residents witnessed and reported a "string of lights" moving across the sky at great speed. They then disappeared into the distance. South Africa, like many countries around the world, also has a long history of UFO sightings and activity.
You can view the footage captured on 16th February below.
Lights With "No Sequence Or Rhythm" Gulf Breeze Sighting, 17th Feb
A particularly interesting UFO sighting unfolded at around 10 pm on the 17th February in the Gulf Breeze region of Florida.
The witness would claim they were outside their home using their phone when they "saw a bunch of lights that were blinking". What's more, the witness is relatively familiar with both commercial and military planes that fly over the house. These lights, however, the witness recalled as moving "randomly" and with "no sequence or rhythm".
The sighting lasted for around 10 minutes in total, although the witness only managed to capture around 60 seconds worth of (undoubtedly valuable) footage.
As the witness also correctly points out, the entire Gulf Breeze area has regular UFO sightings, and has done for decades. Might it be that there are some truths in the conspiracies of secret bases, possibly extraterrestrial ones, residing of the coast of Florida, as well as other coastlines of the United States?
You can see the video captured by the witness below.
Another Glowing Orb Witnessed Over Wasilla, Alaska 17th Feb
We began our look at UFO sightings for the month of February by examining an incident that took place at the start of January but was only recently reported. On the 17th February in the same city of Wasilla in Alaska, a similar sighting of a glowing orb hovering high overhead.
The incident occurred at approximately the same time – somewhere between 7 pm and 9 pm – and was captured on camera by the witness. It would appear that the picture wasn't showing the setting sun as this had occurred earlier. What's more, due to the cloudy skies, it is likely not a planet either.
Is this more evidence that there is a persistent UFO presence over Alaska? You can see that picture below.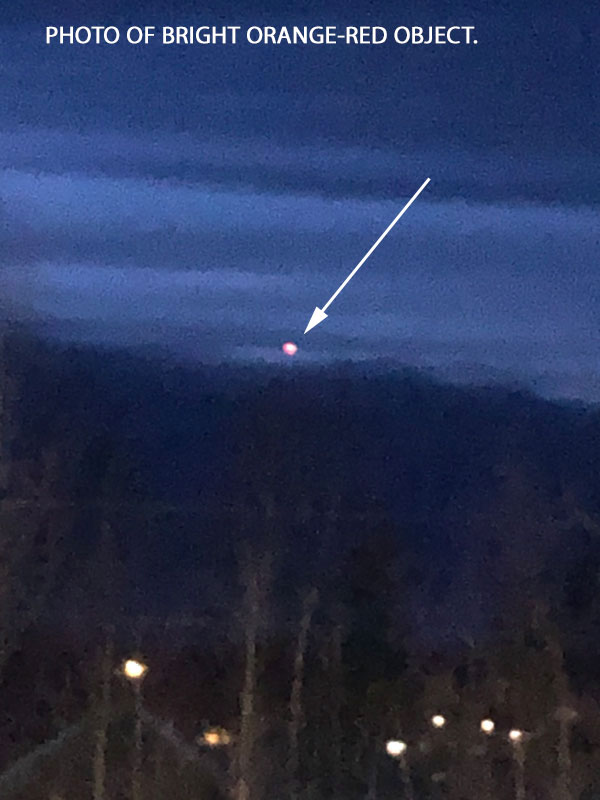 Two Strange Objects Overtaking A Plane Over Rioverde, Mexico, 19th Feb
On the evening of 19th February a local resident, Alejandro Garcia, captured around 30 seconds of footage of two UFOs over the city of Rioverde in Mexico. The footage shows the two objects moving past a plane suggesting they are traversing the skies at a considerable pace. Furthermore, the objects appear to be traveling purposely one over the other.
What isn't clear is whether the footage shows two objects throughout or whether it shows one object becoming two.
As we have mentioned previously, Mexico is one of the places you might be most likely to see a UFO, with many sightings reported there each year. This incident only adds to its reputation as a UFO hot spot.
The footage in question can be seen below.
Silent Orbs Making Their Way Over Metairie Louisiana, 21st Feb
According to MUFON case 113579 – as highlighted by Scott Waring – a local witness managed to capture footage of several glowing orbs going over the Metairie region of Louisiana. And what's more, we are not talking just a few – the witness would claim there was likely more than 30 of the strange glowing spherical objects.
Also of intrigue is the fact that some of these glowing orbs appear to change speed (which can be seen in the footage). Does this suggest an intelligence behind them?
The witness stated in their report that the light had "no sound" and were moving in an east to west direction. They glowed with a "reddish pink hue" and were not flashing at all but were consistent.
You can see that footage below.
The American Airlines Flight 2292 Incident, New Mexico 21st Feb
While flying over north east New Mexico, the pilots of American Airlines Flight 2292 witnessed an "unidentified cylindrical-shaped object" speeding through the sky at an altitude of around 36,000 feet. What's more, the incident has not only been officially confirmed by American Airlines, but the FBI is also said to be investigating the sighting.
Upon seeing the bizarre object, the pilots asked ground control if there were "any targets" in the sky with them as they had "just had something go right over the top of us".
Interestingly, the sighting occurred in almost the same location as a sighting that occurred in 2018 when two aircraft had such close encounters at almost the same altitude of 37,000 feet. What's more, one of the pilots involved in that incident would speak to the media, with the descriptions he gave being very similar to those of the recent sighting.
While there is some debate whether such sightings in this region of the United States might be connected to the White Sands Missile Range, many others believe the incident to be yet another encounter with extraterrestrial intelligence.
You can listen to the incident in the video below.
Strange Object Appears Out Of The Clouds Over Cairns, Australia, 22nd Feb
Another MUFON case (113765), on the evening of 22nd February in Cairns, Australia, two local residents witnessed and filmed strange flying object that seemingly appeared out of nowhere.
The witness would state in his brief report of the sighting that they at first believed the object was a "hole in the clouds" until they realized that the clouds themselves were moving behind the object. Then, after several moments, the object "pulsated (and) then disappeared".
Veteran UFO researcher, Scott C. Waring, would state that this action was "clearly noticing the two men watching it and recording it". Whatever the object was, if indeed it was a solid object, remains unknown and there if little other details at this point regarding the sighting.
You can view footage of that sighting below.
January
We will update this article each month with the latest UFO sightings from the previous four weeks as we go through 2021. As usual, though, we start with several recently reported sightings that occurred back in December.
Two Strange Objects Photographed Over Florida, 2nd Dec
Although it wasn't reported until the middle of January, a strange object was photographed in the skies over Seffner in Florida on the morning of 2nd December. The witness was driving at a little after 10 am she they noticed a strange formation in the cloudy skies above.
They brought their vehicle to a stop and reached for their phone in order to take a picture of the apparent anomaly. When the pictures were viewed a short time later, two strange objects appeared to be in the shot. The witness claimed that they hadn't noticed them when actually taking the pictures.
It is highly like that the "objects" in question were actually simply lens flares. There is, though, perhaps some doubt, and the picture is certainly intriguing. You can view that picture below.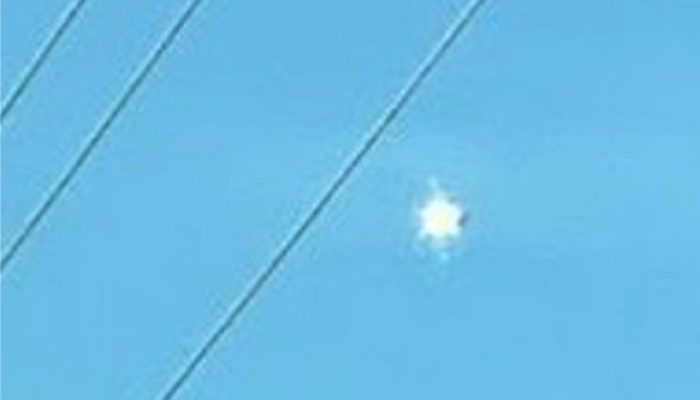 String Of Red Lights Over Idaho Falls, 5th Dec
Although there is little information at this time, another December sighting not reported until January unfolded over Idaho Falls in Idaho on the evening of 5th December.
At just before 6:45 pm a local resident noticed "two sets of three lights in a slight curved line". It appeared that each set of three were in motion in their own right as they "blinked separately". The lights were moving, however, in the same direction, occasionally flashing a white light as they moved.
You can see a picture of the lights that the witness managed to capture and make up your own mind.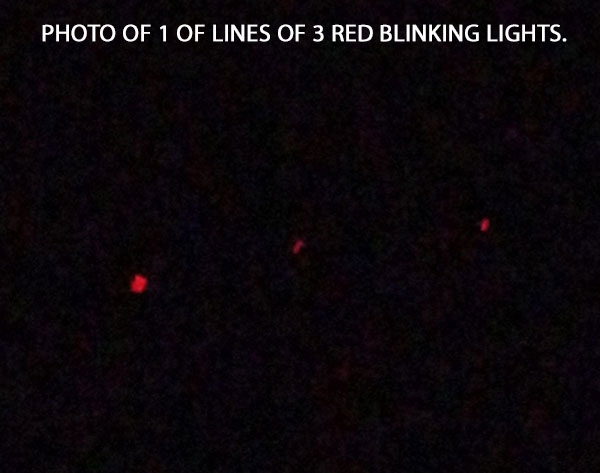 Bright, Circular Object Hovers Over Dorchester, Massachusetts 26th Dec
Our last late-reported sighting of December that we will examine took place in Dorchester, Massachusetts on the 26th of December.
At a little after 6 pm, the local resident happened to notice a "white circular object hovering and flashing" while looking out of their window. They watched it move in several directions before seemingly heading toward them. It was at this point when they reached for their phone and began recording the unusual aerial activity.
When they zoomed in with their camera, they noticed how the object was "moving in uncharted flight paths, as if it was trying to get a better look at something". Once more, then, although it is only a suggestion, there is the notion of some kind of reconnaissance to this UFO sighting.
Furthermore, the witness would claim that the object remained in the sky almost the entire evening. Even more intriguing, the witness claimed that the four objects returned into the same position in the sky and once more acted as though they were scanning the ground below.
The online website where this report was submitted noted that there were no bright planets visible in the area where the incident occurred.
You can view that video below.
Blue UFO Over Hawaii, 29th December
At the end of 2020 on the 29th December, a local resident of the Hawaiian island of Oahu spotted and reported a glowing, blue UFO overhead. The shape of the object appeared to oblong and was "larger than a telegraph pole".
The sighting was captured on film and was appeared to travel across the sky before eventually entering the waters of the Pacific Ocean. This is, once again, an intriguing detail given the number of researchers who suggest that underwater alien bases exist in several places around the world.
There are, however, plenty of theories and suggestions as to what else the object might have been. Perhaps one of the most recurring was that it could be an "LED kite". As we might imagine, the debate continues as to how otherworldly or terrestrial the blue object might actually be. It is, however, one of the most intriguing to recently come to light.
The sighting was officially reported to the Federal Aviation Administration. Their initial investigation has not revealed any "aircraft disappearing off radars" and have had "no reports of overdue or missing aircraft".
You can see footage and a news report of that sighting below.
Demi Lovato Claims Another UFO Sighting, Mid-January
Before we move on to other sightings throughout January, we should perhaps turn our attention to another celebrity claiming an apparent extraterrestrial encounter. And while we might be suspicious that such celebrity claims are nothing more than an exercise in staying in the public eye, they still very much require documenting and examining.
The claim came to light in the middle of January when the singer stated on social media that she had managed to film a UFO "in broad daylight". The circular object may or may not be a UFO – and certainly got a reaction from her followers, with some stating they were merely balloons.
Incidentally, Lovato has made several claims of seeing UFOs in the past. In October 2020 she released similar footage of an apparent UFO, even claiming she had been in the company of Dr. Steven Greer when the video was captured. From her social media posts and recent interviews, it would appear Lovato is very much a believer in at least the possibility of alien life visiting our planet.
Cube-Like Object Filmed Over Palm Beach, Florida, 3rd Jan
Early in the evening on the 3rd of January in Palm Beach, Florida at around 6 pm, a local resident was leaving a department store with their 10-year-old son when they noticed a "dark, cubed-shaped object" overhead. which was "moving slowly" through the cloudy sky.
The witness immediately reached for their phone, realizing they were witnessing something out of the ordinary, and began to film the aerial anomaly from the street below. They continued to view the object for some time. And while it appeared to be descending, they would eventually lose sight of it as it disappeared "behind the store" which blocked their view. The witness would estimate that it was around 500 feet away from where they stood. Although they would quickly get in their car and attempt to locate it once more, they could not find the object after that.
They would further recall how there was a "dim light" on one side of the object and that it appeared to be completely silent. What's more, it appeared as though there was "some rotation motion" to the apparent craft.
You can view that footage below.
UFO Captured In Time Lapse Photos, Hatteras Island UFO, 7th Jan
At 10:20 pm on the evening of 7th January, at the Cape Hatteras Lighthouse, a photographer, Wes Snyder, was shooting time-lapse photos for a project that was upcoming. However, during this photo mission, he managed to capture just under three minutes' worth of footage of a strange object.
Snyder realized he had captured something quite extraordinary when he reviewed the footage. He could immediately see that the object was moving "faster than the clouds" and was much too big to be a plane. Snyder himself is unsure of exactly what the object might have been and asked for viewers' thoughts when he posted it online.  He did, however, dismiss that it might be a meteorite or a shooting star due to how long it remained in shot.
It is a possibility that the UFO disappeared into the ocean as opposed to into the distance (although there is no footage of this). We mention regularly that many UFO sightings occur near water, with one of the main theories as to why this might be being the presence of underwater alien bases off the coast of the United States.
It is certainly an intriguing piece of footage. You can view Snyder's video below.
Ring Of Light Captured Over Fargo, North Dakota, 9th Jan
After finishing work at a little after 7 am, a local resident of Fargo, North Dakota, witnessed a strange, glowing ring of lights in the still dark sky as they drove home. Although there was a fog in the sky, the lights were clearly visible.
The witness, who sat waiting at the traffic lights, reached for his film and managed to capture several seconds of them. They would note that the lights appeared to be completely stationary and didn't move at all during the incident. It appears, when the footage is viewed, that the lights are the underside of a solid object, most likely a circular, disc-shaped one.
One intriguing theory was put forward by veteran UFO researcher and writer, Scott C. Waring. He would state that it was possible the UFO had just landed and the "aliens disembarked to study" the area. If that was the case, then the witness might have been nearer to a much closer encounter than they previously thought.
The witness eventually drove away from the scene. You can see the video in question below.
Glowing Rectangular UFO Over Hollywood, Florida, 12th Jan
Just before midnight on the evening of 12th January in Hollywood, Florida, a rectangular UFO was captured for several minutes on video. The person who captured the footage first noticed the three rows of lights of yellow, red, and white, seemingly hovering overhead in a stationary position.
They managed to use their phone to capture the footage. The object remained visible for some time before disappearing behind buildings and then reappearing again. The lights eventually faded and the object disappeared from view. Whether it moved away into the distance or whether it simply turned off its lights is unclear.
You can view footage of the sighting in the video below.
Objects "Appear Out Of Nowhere" Alejandria, Mexico, 13th Jan
At just after 7 am on the morning of 13th January in Alejandria in Mexico, several UFOs were witnessed and filmed in the skies overhead.
The witnesses to the incident would claim that these strange objects "appeared out of nowhere" and at first were just three lights. However, as they came closer, they very much appeared to have a solidness to them. They would elaborate on how their "glow is fascinating". The witnesses were in the highlands of the area when they filmed the strange crafts.
The sighting is interesting not only because it appears authentic, but Mexico is home to many UFO sightings month after month. Some researchers even suggest that the several mountains and volcanoes in the area are home to extraterrestrial bases which results in the increased sightings in this part of the world.
You can see that video below and make up your own mind.
UFO Captured Going In And Out Of Clouds Over Picos, Brazil, 15th Jan
On the morning of 15th January over Picos, Brazil, a strange object was filmed leaving the clouds before disappearing back into them. Local resident, Luan Silva had noticed the strange object emerging from cloud and disappearing back into them several times before finally reaching for his phone, managing to film this action.
There is little information or explanation as to what was taking place, but the footage is seemingly credible. If we assume this object was a solid, intelligently guided craft, what might the purpose be for such a display? For example, if this was some kind of reconnaissance mission why would it allow itself to be seen several times? Or might this have been an intentional action to make its presence known, and if so, why?
You can see that short video below.
Pilots Witness UFO Over Pakistan, 23rd Jan
Another sighting involving commercial pilots occurred on the 23rd of January over Pakistan when several pilots with Pakistan International Airlines witnessed something strange in the skies with them. And what's more, one of the crew managed to capture footage of the obscure object.
The plane was making its way from Karachi to Lahore at around 4 pm when the pilot spotted something out of the ordinary approximately 1000 feet above their own altitude. The captain, Faisal Qureshi, immediately contacted the control tower and reported the strange object. Shortly after, he captured the video footage.
The crew would describe the strange object as being "extremely bright" and appeared to have a metal ring around it. In the video, the pilot is also clearly heard saying "it's not a balloon, it's not an aircraft". We should note that many who have viewed the footage believe there is a distinct possibility that it could indeed be a balloon.
Perhaps an indication of the authenticity of the sighting is the fact the airline themselves issued an official statement regarding it. In it, they stated that it was "too early to say what the object was" and that they might not ever "be able to tell". However, as it was reported as per protocol, they would investigate.
Just what the object might have been remains open to debate. You can watch a short video on the sighting below.
Strange Object With Rotating Lights Over Great Falls, Montana, 27th Jan
While the following sighting doesn't have any photographs or video footage to back it up, it is perhaps one of the most detailed incidents of the opening month of 2021. The incident in question took place in Great Falls, Montana at a little after 6 am.
The witness stated how they were laid in bed looking out of the bedroom window having been awake for several hours already. As they did so, they noticed what they at first thought was a plane in the distance. However, when they noticed it was heading toward them, they began to watch the object more closely. It was quickly growing larger in size suggesting it was approaching the house with some speed.
Now beginning to fear the object was about to crash into their home, the witness jumped out of bed, continuing to watch the aerial anomaly as they did. Suddenly, though, the object stopped and hovered. The witness would estimate it was no more than 50 feet from the window he was watching it from.
The witness doesn't state what actual shape the strange vehicle was, they did state that they briefly contemplated that it was a helicopter which perhaps suggests an oval or cigar shape. They did, though, reveal that in the underside were red and white light that appeared to be rotating randomly. They also recalled that it was completely silent. As he struggled to open the blinds so that he could see the craft more clearly, it suddenly disappeared, again without making a sound.
The witness would make it clear that they were not dreaming nor in a state of sleep paralysis, and that what they had seen was definitely real.
Glowing Spherical Object Moving Slowly Over Touchet, Washington, 27th Jan
A recent MUFON report (MUFON 113398), a local resident managed to capture around 30 seconds of footage of a glowing spherical object moving across the sky. The witness was in their back garden when they first noticed the strange object. They would note how slow and controlled the movement across the sky was, and how it appeared to pulsate somewhat as it moved.
As UFO researcher, Scott Waring asks, might this slow movement over the area be due to a surveillance mission? Or might it even be to monitor how humans react to seeing such alien craft? The debate, on the previous questions and this particular sighting continues.
You can see the video in question below.
Glowing Object Photographed Over St. Peters, Missouri, 28th Jan
According to another recent MUFON case (MUFON 113445) on the 28th of January in St. Peters, Missouri, a passenger in a car noticed a "very bright stationary light in the sky". They would estimate that the object was around a mile or so away from the moving vehicle and was in view for around 30 seconds. However, during that time, the witness managed to capture several photographs.
What is interesting is that the photographs do appear to show a solid object that is reflecting the sun from a seemingly shiny exterior. And what's more, very similar photographs have been captured going back many years. Of course, whether the incident was a case of an intelligently guided craft or not remains open to debate. It is perhaps interesting that the object – if we assume for a moment that it is indeed a solid craft – was witnessed over powerlines. Some UFO researchers claim this could be a way of them extracting power from them, or even using them to spy on our own communications.
Incidentally, this sighting is very similar to the sighting over Washington State the day before that we examine above. Might it be the same object?
Blue UFO Over Charlotte, North Carolina, 29th July
On the evening of 29th January over the city of Charlotte in North Carolina, local resident Alisa Homewood witnessed several strange lights overhead. She would recall how she was leaving a grocery store with several members of her family when she "happened to notice the lights".
She continued to watch them as they approached. When she realized that they were making no sound whatsoever, she decided to take out her phone and photograph them. She would later post the pictures on Facebook stating that although they "flickered like lanterns" they were seemingly unaffected by the wind and instead "followed the same exact path".
She would conclude that although it was unlikely that "they were aliens" there was nothing to suggest they were "definitely lanterns".
Interestingly, only hours earlier on the morning of the sighting, Alisa witnessed "approximately six military helicopters fly over the area". Whether there is a connection between the military helicopters and the later sighting of the apparent blue UFO is perhaps open to debate.
You can see one of those photographs below.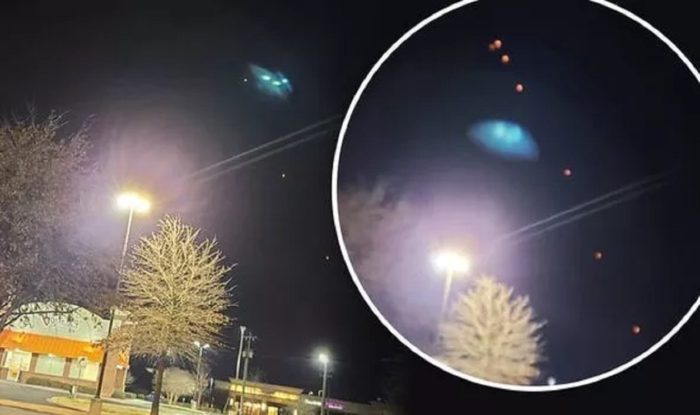 Bright Object Rising Into The Air, San Diego, 28th Jan
At a little after 7 pm on the 28th January in San Diego, California a strange ascending object was captured on a security video. It wasn't until the following day that the owner of the property realized he had captured something a little out of the ordinary.
This is another sighting that doesn't at this stage have a lot of information, and there is still speculation as to whether the light belongs to a terrestrial aircraft. However, it is certainly worth including here for your examination.
You can view that footage below.