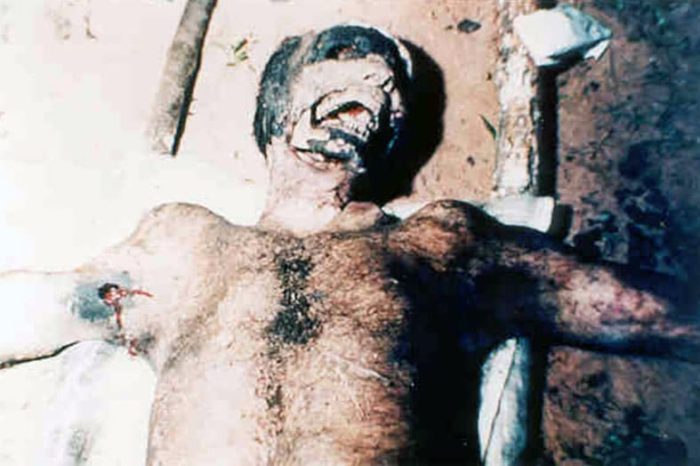 Most of us have heard of cattle mutilations – perhaps even seen disturbing pictures of such incidents. While most can put these incidents out of their minds as simply "something strange that happens", if it came to the discovery of a person with such precise mutilations, surely the response would be very different.
There are numerous discoveries of people who bear remarkably similar injuries to those found on cattle. All horrific in their own right, they are largely treated as single cases. What's more, despite the seemingly overwhelming amount of evidence to suggest purposeful medical-type procedures, many still insist that these injuries are merely the result of decomposition and natural decays.
Some researchers claim that these types of mutilations happen all the time. And furthermore, governments around the world actively cover them up. Before we look at some of those apparently sinister cases, what of cattle mutilation itself? Incidents occur around the world and the vast majority of cases are still unanswered.
As a background to this, however, check out the short video below, an interview with John Leer. He makes quite some remarkable statements. Some of which mirror what we mention in our article on Eisenhower's apparent meeting with aliens back in the 1950s.
Cattle and Animal Mutilations
Cattle mutilations have happened for years. Even as far back as late the nineteenth century. In the 1970s however, a surge in reported incidents occurred – particularly in America. Over the decades that followed, regular reports of such mutilations come in from all over the world.
While the phenomenon has never completely vanished from the news, it appeared that they had slowed somewhat. Over the last quarter of a century, however, this has not been the case. In fact, if anything, they seem to be happening more and more often.
In 1990 in Vancouver, Canada, residents were subject to an entire summer of strange events. [1] Strange noises dominated the skies throughout the area – machine-like, but not what the residents would usually hear. One resident even reported seeing a "little man" running in a field at the side of the road. In his hand, he carried a strange device similar to a torch.
Even more disturbing were the animals and cattle discovered with eyes, ears, and tongue cleanly removed. One particular ranger, Richard Fazio, had five of his dead cattle analyzed by Oregon State University. Their results indicated the injuries were the result of exposure to an intense heat source. The wounds bore similarities to electrosurgical procedures.
In perhaps one of the strangest reports, Alex Peterson discovered one cow with its head "wedged" in the ground. Indications were that it had fallen from a great height. Tom Miller's ranch in Colorado claims their cattle and livestock are regularly victims of mutilation and have been since 1999. Kit Metzger, of the Flying M Ranch in Arizona, has similar claims and states finding mutilated cattle since the 1970s.
Wales A Recent Hot-Spot For Animal Mutilations
These types of mutilations are not at all limited to the North American continent, however. And what's more, some investigators in the United Kingdom believe their research reveals what is responsible.
According to the Animal Pathology Field Unit (APFU), there is no doubt whatsoever, that extra-terrestrials are responsible for the mutilations. This is particularly the case for the ones that have plagued Wales for some time. In our article on the Broad Haven School UFO incident, we looked at the increased UFO activity in the area. This is also true of cattle mutilation in the region, which is a "hot-spot" for such grim finds.
Investigator Phil Hoyle, who has spent decades on such claims, dismisses theories that these mutilations are part of satanic rituals. He asserts that the injuries are so sophisticated that it suggests alien or military involvement or both.
During a six-month period between 2011 and 2012, several prominent show horses suffered severe mutilations. Reports surfaced from all around the United Kingdom. Theories ranging from satanic rituals to top secret government testing arose.
In Shrewsbury, a year previously in 2010, farmers even reported that they were witness to the attacks on their sheep. Strange objects would hover over their animals, sending a laser down to them below. In a particularly active period of mutilations, many reports of "strange orange lights" [2] in the sky surfaced. One of these incidents took place in front of a team of investigators, whose report described the encounter as something akin to a "Star Wars battle!"
"Human Cattle" Mutilations
The already chilling and bizarre episode known as The Dyatlov Pass incident even had elements of precise mutilations on several of the victims. Samples of the mouth, cheek, and tongue were cleanly taken, while their bodies appeared in a strange mode of preservation.
The Jonathan Lovette Incident [3] is one of the most bizarre on record. While on a "search and retrieve" mission in New Mexico in March 1956, Sergeant Jonathan Lovette and Major William Cunningham seemingly ran into something other than the missile debris they were searching for.
Cunningham had returned to the US Army base wild with fright and with a tale even wilder. Lovette was dead. He had gone to investigate a sand dune in the New Mexico desert, vanishing for a moment from his sight. It was then he heard the screams.
Rushing over to the dune, Cunningham stated a huge silver disc hovered over Lovette. Now caught in the grip of a "snake-like" creature, it dragged the young sergeant on board the airborne vehicle. Before Cunningham could act, the creature had achieved its aim, and both Lovette and the craft vanished.
Most fully expected Cunningham to face murder charges, and he most probably would have. If it hadn't have been for the eventual discovery of Lovette's body that is. It contained a vast array of injuries and wounds, including the removal of the eyes, ears, and tongue. Every drop of blood had also been removed from the carcass.
The Guarapiranga Reservoir Man And Abel Boro
In 1988 at the Guarapiranga Reservoir in Brazil, came the grim discovery of an unknown man. [4] He had injuries that were almost identical in nature to those found on mutilated cattle. Initial autopsy results indicated that he had been dead for several days. However, there were little, if any, signs of decomposition to the body.
The injuries were horrific as they were precise. His corpse was completely drained of blood, while his entire body bore purposeful removal of skin samples. On top of this, his tongue was neatly removed, as were his eyes and ears.
Still, to this day the man's identity is unknown, and the case is one of the most brutal on record.
Seven years earlier in 1981, also in Brazil in the area of Panorama, a similar incident occurred. On this occasion, there was no doubt, at least according to the witness, of a connection to strange UFO sightings. The whole area was awash with reports of strange objects in the skies. Locals would refer to these strange aerial sightings as "Chupas" [5] – who would search the ground below with strange searchlights.
Abel Boro would witness one of these crafts close up. Unfortunately for him, it was the last thing he would see. Along with his friend, Rivamar Ferreira, they noticed a spinning circular object above them. In a matter of seconds, it zeroed in on Boro and ejected a bright light that washed over his body. By the time Ferreira had returned with help, Boro was dead. His body was devoid of every last drop of blood.
The short video below features Butch Witkowski speaking about just some of the other suspected human mutilation cases on record.
Secret Thatcher/Reagan "Cover-Up" Program?
While the aforementioned cases are all horrific in equal measure, they are generally regarded as "one-off" and very strange encounters. Some, however, claim that these are just the tip of the iceberg. And that this is happening all over the planet with everyday people.
Rumors of a human mutilation cover-up have swirled in the UFO community for some time. In the mid-1990s, reporter Derrick Gough came in possession of documents and information via an anonymous UK military source who worked on secret projects for NATO and the US military.
Essentially, governments were covering up these human mutilation cases. The source was part of a top-secret unit alert to UFO visitations. They would ensure that the area was "protected" during their brief stay. It was then their job, wherever possible, to recover any human corpses, and hand them over to the US military. Officially, the dead people "recovered" would remain on record as missing.
This response team, according to the source, came into being through Thatcher's government in response to Ronald Reagan's request. They were on constant "call" and reachable at all times. Helicopters were always on stand-by to take the unit wherever required. What's more, the people that gave the unit their orders, not only had ahead knowledge of UFO activity, but of such activity that would result in animal or human mutilations.
Intimidation
Gough attempted to pass this information on to the police – including several photographs of such mutilated corpses. They removed the pictures from his possession although for his own safety had made copies of them.
Shortly after, he received several threatening phone calls regarding the claims he was making. He also suffered a strange fire to the office at his property. Now frightened for his safety, Gough passed what he had left of the documents and information on to retired police officer and UFO researcher, Tony Dodd.
Dodd made contact with the source. Their conversations resulted in the book "Alien Investigations" in 1999.
Another researcher, Richard Hall, has also conducted extensive research into this subject. During this, he has verified that Gough, and in turn, Dodd's source was very real. In short, as strange and chilling as the claims are, they appear to have more truth in them than most would want to believe.
As well as regular activity at the Brecon Beacons in Wales, regular grim discoveries occur in Dalby Forest in Yorkshire. We have written before about how the Yorkshire Moors are a UFO hotspot of sorts. However these mutilations, according to the research so far, are happening everywhere.
The video below looks at these allegations in more detail –  a talk given by Hall on the subject.
References

↑

1
UFOs, mutilated cows and Oregon: What's the link? Oregon Live

https://www.oregonlive.com/entertainment/2016/02/ufo_cow_mutilations_oregon_no.html

↑

2
Unexplained sheep attacks 'caused by aliens in UFOs', farmers claim, The Telegraph, April 5th, 2010

https://www.telegraph.co.uk/news/newstopics/howaboutthat/ufo/7555431/Unexplained-sheep-attacks-caused-by-aliens-in-UFOs-farmers-claim.html

↑

3
The Occult Connection: UFOs, Secret Societies and Ancient Gods, Volume 1, Ken Hudnall, ISBN 9780975 492369

↑

4
The Disturbing Case Of The Mutilated Man, Conspiracy Theories

https://conspiracytheories.in/the-disturbing-case-of-the-mutilated-man/

↑

5
The Encyclopedia of Vampires, Werewolves, and Other Monsters, Rosemary Gulley, ISBN 9781438 130019 (page 67)