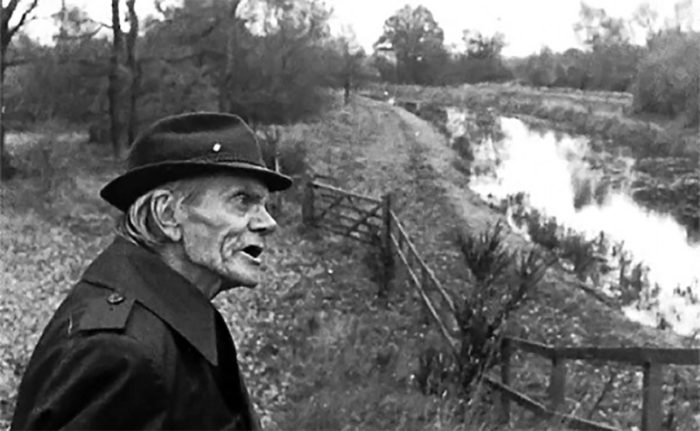 Although it is a little-known incident now, it is arguably one of the most intriguing alien encounters on record. A night-fishing trip would turn into one of the most remarkable evenings of seventy-seven-year old Alfred Burtoo's life.
UFO investigator and author, Timothy Good, spent considerable time with Burtoo following the life-changing event. He firmly believed, in spite of the odd small details that didn't make particular sense, the incident took place.
Even when "rumors" swirled that Burtoo had claimed the affair a hoax shortly before his death, his wife insisted (after his passing) that his account was true. To the aforementioned Good, she stated, "he had the look of a man who had seen a miracle happen!"
The Alfred Burtoo incident is perhaps one of the most bizarre in UK UFO history. Before we look at it in more detail, check out the video below. It features Good and, Nick Pope, in conversation – two of the leading UK voices on UFO phenomena.
The Night-Fishing Trip
In the early hours of 12th August 1983, Alfred Burtoo, [1] along with his dog, Tiny, would make his way to the banks of the Basingstoke Canal in Aldershot, England, for a spot of night-fishing. The only other person he would see during his journey was a policeman working for the Ministry of Defense on his patrols. By the time he had picked out his preferred spot, the nearby army barracks clock announced it was 1 am.
Barely a quarter-of-an-hour went by, before Burtoo's night would take a most dramatic and fascinating twist. While taking a drink of tea from his flask beaker, he could see a strange light heading towards him. It eventually settled down behind some trees around three-hundred feet away from his position. He could still see the light poking through the gaps in the branches.
He stood to get a better view, dragging on his cigarette as he did so. Tiny began to growl nervously, refusing to obey Alfred's commands for her to stop. It was then he began to make out two "forms" heading his way.
Far from being afraid, Burtoo's military training, as well as his time spent working in the open country of Canada, made his mind more inquisitive than anything else.
According to Burtoo, the creatures stopped a mere five feet away from him. Each "side" returned stares for several moments. Burtoo would later describe the beings as "around four foot high" and wearing "pale-green coveralls from head to foot!" Each suit appeared "molded" to them. There was no sign of buttons, zippers or any other "fastener" of any kind. Each also adorned a helmet, also pale-green, and with "visor that was blacked out!"
On Board The Craft
After several prolonged seconds, one of the beings motioned with its thin arms for Alfred to follow. It then turned away and headed towards the lights of what Burtoo assumed to be their ship. He followed the first being, while the second would follow behind him. They walked the distance to the glowing craft, at one point even crossing a small public footpath.
On a quiet "out-of-the-way" towpath, was the source of the glow. A metallic looking craft, around forty foot wide. It appeared to rest on two "ski-type runners" and a set of steps protruded from a porthole in the side. As it had done to beckon him to follow, the "form" would motion for Alfred to proceed up the steps on board the craft. Even at this point, Burtoo maintains, "I wasn't even thinking about UFOs at the time!"
He walked up the steps and went on board the strange ship. He would immediately find himself in an octangular-shaped room. The being in front of him went out of his line of sight. He would later claim went it did he "heard a sound like a sliding door or something!" The other "form" simply positioned itself near the door they had just walked through.
The temperature was notably warmer than outside, although not uncomfortable. He could also sense an aroma "not unlike decaying meat!" He noticed how the beings moved in a "stiff" manner, although aside from this, their movements were almost identical to a human's.
For the next ten minutes or so, Burtoo stood in silence doing his best to examine with his eyes his surroundings.
Examination Under "The Amber Light!"
The room itself was all comprised of a black material that had the look of "unfinished metal!" There were no nuts, bolts or even seams anywhere. It was as if the entire room was a mold from one piece of huge material.
Bringing him back to the moment was a sudden rise from the floor of a large shaft. On each side of this, were two other "forms" – exactly the same as the first two who had brought him here.
Out of nowhere, a voice would then instruct him, "Come and stand under the amber light!"
At first, he could not see the light, but as he moved to his right it was directly in front of him, from floor to ceiling. He did as instructed, and stepped into the amber glow.
He would stand waiting for further instruction until the voice again sounded. This time, "What is your age?" Burtoo informed the unseen owner of the voice he would be "seventy-eight on my next birthday!" He was then asked to turn around in the column of light.
A further wait ensued, until the voice finally called out, "You can go! You are too old and infirm for our purpose!"
With that, he matter-of-factly left the craft and proceeded back to his spot on the bank of the canal. As he looked back, he could see a lot of activity on the craft, with several apparatus turning. Some clockwise, some anti-clockwise.
By the time he was back at his fishing spot, a sudden ultra-bright glow would light up the entire area. He turned to see the strange craft shoot off into the sky at fantastic speed – and then it was gone. A look at his watch would tell him an hour had gone by.
Aftermath
According to Burtoo, he then settled down to continue what he had ventured out to the canal bank for – to fish. Around 10 am, two mounted MoD policemen approached him to make small talk. That was until he mentioned the strange lights and glowing craft, to which one of them replied, "Yes. I suspect you did see that UFO. I expect they were checking on our military installations!"
With that, they would go on their way, and by shortly after noon, Burtoo was at home telling his wife of the evening's events, before retiring for an afternoon nap.
By October of 1983 however, he would find himself desperate for more information about what he might have seen during the early hours of that August morning. So much so, that he would make contact with the local newspaper, the "Aldershot News" in search of any other witnesses. From this, the paper ran a story, which in turn found its way to the Surrey Investigation Group of Aerial Phenomena.
By November 1983, the case would fall in the "in-tray" of Timothy Good. Good would speak to Burtoo at length about the incident, and although he found it frustrating that the ex-military veteran had not thought to ask any questions at all of his "hosts", he would state in his book, Above Top Secret that undoubtedly believed" the claims Burtoo made.
Incidentally, aside from his age, Burtoo believed his chronic bronchial problems contributed to his release. Had he had a lucky escape? Or might he have missed out on a journey of a lifetime? Regardless, his health continued to fail over the following years, until his death at eight years of age on 31st August 1986.
Check out the video below. It features Richard Hall interviewing, Good in-depth.
Interesting Side-notes
The area where the Alfred Burtoo encounter unfolded has undergone several changes over the years. Most of these are in terms of increased military presence and security. What's more, according to Beams Investigator, Hillary Porter, who is local to the area, this military presence appears very much (and increasingly) of a special-ops-type nature.
Porter claims to have witnessed fully armed units, dressed completely in black. Signs have also appeared stating what should be public land now to be "off-limits" to the public.
In December 2006, while conducting research, Porter took several photographs of the landing area of the Burtoo incident. In one of them, a strange, metallic looking object is clearly visible, despite it not being so to the naked eye. When Porter magnified the strange anomaly, she believed she had caught an "ectoplasmic" manifestation in the middle of "shape-shifting!"
One other strange thing noticed by Porter is an almost annual article that appears in the local newspaper around the time of the anniversary of Burtoo's death. It always recounts the incident, and then goes out of the way to stress that "it didn't happen!" and that the claims "made Burtoo a laughing stock!" Make of that what you will.
Check out the video below. It features Good speaking at length about the UFO cover-up.