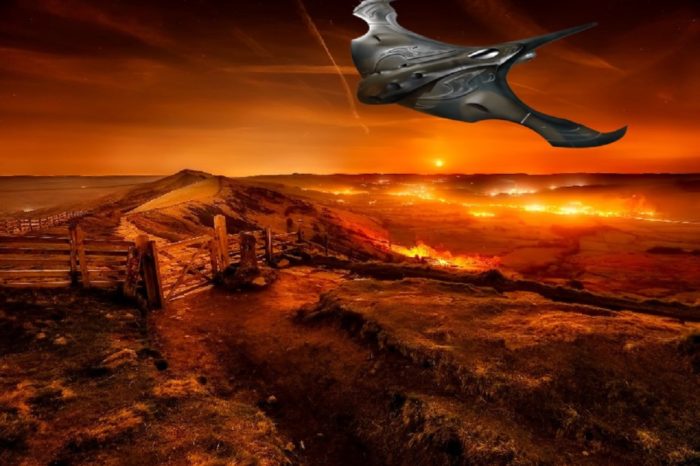 An incident in the countryside of the south of England in October 1967 would soon progress into a wave of sightings of a specific "cross-shaped" UFO around the entire United Kingdom. Perhaps what makes this apparent surge of cross-shaped UFOs all the more interesting, themselves occurring in the middle of a general wave of UFO sightings around the United Kingdom and indeed the world in 1967 (the MoD would receive over 365 official UFO reports compared with only 95 the previous year), is that many of the witnesses are police officers or people with military backgrounds.
In short, they are well placed in terms of their experience in pressure situations in keeping a rational mind. They also will be very well aware of the dangers of ridicule for speaking out on such (to some) outrageous matters. With that in mind, then, they must surely have been confident in what they had seen. Confident enough to risk their reputations. Perhaps even their careers.
Despite the official stance and ultimate dismissal of these reports by the Ministry of Defense, it is clear to most UFO researchers that something very strange was taking place over the skies of the United Kingdom in the last week of October 1967.
UFO Sighting In The Moigne Downs Countryside
It was a little after 11:25 am on the 26th October when former flight administrative officer, Angus Brooks, was walking his Dalmatian and Alsatian dogs in the countryside of Moigne Downs in Dorset. [1] An extremely strong wind had come out of nowhere. So, as his dogs wandered around and explored the morning air and all the scents it had to bring, he would make the decision to lay in one of the indentation hills to shelter himself from the biting gusts.
However, when he did, he could immediately see a "contrail high in the sky". He watched this strange aerial apparition for several moments. Then, it faded away. In the same place, an equally strange but solid object appeared. It moved "at lightning speed" and was descending rapidly. Brooks, a former Second World War photographic interpreter, was almost perfectly placed to take in a mental picture of the object.
He would go on to describe it as a "central circular chamber with a leading fuselage in the front and three separate fuselages together at the rear". In short, it was in the shape of a cross. He would watch the object for approximately for 22 minutes, during which time his Alsatian had returned to watch the strange object with him.  He would later describe the craft as of a "translucent material".
After hovering, the object suddenly burst into life and vanished into the sky in an east-northeast direction. Perhaps bizarrely, and in a rather sad twist, the witnesses Alsatian would always become nervous when it returned to the area following the incident. Even worse, around six weeks later, it suddenly passed away.
A Wave Within A Wave
Brooks would report the incident to the Ministry of Defense in London. However, their response was one of dismissal than of genuine interest. They would ultimately suggest it was his eyes playing tricks on him and that he had "entered a dream state" while resting. Perhaps not surprisingly, Brooks would dismiss their suggestions. [2]
Furthermore, throughout the entire country in late-October 1967, sightings of UFOs were being reported. For example, only the previous evening to the sighting of Angus Brooks, retired RAF Wing Commander, Eric Cox would see "seven bright lights" while driving through Hampshire. He would claim that the lights were in a V-formation for several moments before three of them simply vanished. What remained was "like a plus sign or a cross". There were several similar sightings on the same evening.
Another sighting was reported to the Royal Greenwich Observatory by an amateur astronomer that had happened around 6:45 am on the 25th October. Unlike authorities such as the police, and most definitely the military, the observatory was much more interested in getting to the real truth of the matter rather than just present a semi-plausible explanation to quieten the public. They would state that it was "quite obvious" there was something "below the cloud cover". And furthermore, that something "was not Venus".
Perhaps one of the most intriguing sightings came in the early hours the previous morning by two patrolling policemen in Okehampton.
Earlier Corroborating Sightings
Two days before the encounter of Angus Brooks, in the early hours of the 24th October at just after 4:10 am, Police Constables Clifford Waycott and Roger Willey were taking part in their normal patrol duties around the Devon countryside. They were around fifteen miles outside of Okehampton when suddenly a strange object appeared in the skies overhead. [3] Willey would recall that it "looked like a star-spangled cross radiating points of light from all angles".
The object appeared to be descending, almost in an arc. The two police constables "thought it had landed". Both officers would exit the vehicle and venture out to take a look. When they did, though, "it started moving again. It was not an airplane, or a helicopter. But it was as large as a conventional aircraft". The officers would go on to state that they had the distinct feeling that the object was "watching them" and keeping them at a safe distance as they went on to pursue it as best they could.
This chase would go on for just over an hour. At one point, the two police officers, doubting themselves and what they were seeing, would wake up a motorist sleeping in a layby to see if he too could see the strange object. The confused man, Christopher Garner, would attest that, yes, he could indeed see this most strange craft.
A nearby resident, Stella Crocker, would report watching the object from her bedroom window. She would describe it as "starry cross" that would hover just under the clouds for several minutes. Another resident, Ursula Dommett, would claim to watch the strange object head out to sea. She would state it had four points of light that made it resemble a cross-like shape.
The Lesser-Known Stalybridge Account
Three days after the sightings of Waycott and Willey, in Stalybridge in Cheshire at around 4:15 am, two police officers on beat duty would witness a "bright cross-shaped" object. They would estimate it to be at an altitude of 1,000 feet and was moving in a north-easterly direction.
Around a quarter of an hour later and three miles away in Glossop came another police sighting of a UFO. Writing in A Covert Agenda, Nick Redfern would state that six separate officers would witness and report the incident. [4] Interestingly, they would also all describe how the UFO would "swing from side-to-side" in a similar manner to a pendulum. This, as Redfern rightly points out, is a description to be found in numerous UFO reports over the years. This, then, would surely suggest the same intelligence with the same technology.
Interestingly, the police officers in Glossop were aware of the sighting of the officers in Stalybridge. And were in direct communication with them throughout. It is almost a certainty that the object each group witnessed was the same thing. It would remain visible in the skies until around 5:30 am. Then, it was ultimately engulfed by the growing cover of clouds.
Why Was 1967 Such A Unique (UFO) Year?
In the middle of what at the time was the busiest year of UFO reports on record, this mini-wave of cross-shaped UFO reports is perhaps more interesting than we might think. There were, at the same time in late-October 1967, several sightings of disc-shaped, oval, or spherical crafts. And while we have no evidence of any type of interaction between these differently shaped crafts, or of them appearing in the same location at the same time, the description of round, oval and cross-shaped aerial objects filling the skies brings memories of the famous woodcut scenes and chronicled reports of the strange "celestial aerial battles" of 1561 in Nuremberg in Germany, and 1566 in Basel, Switzerland. [5] You can check out a picture of the Nuremberg scene below.
Might there have been several different alien intelligences flying through the skies of the United Kingdom, and indeed the entire world, in 1967? If so, what might the ultimate end goal have been? Were these reconnaissance missions, and again for what purpose? Why did such sightings settle down somewhat over the following years? And why are "cross-shaped" UFOs not sighted more often? Might these have been a military experimental craft? Or might they indeed have been an extraterrestrial race? One who spent time here before moving on to another part of the universe?
What perhaps is most important, though, is that an explanation for the Flying Cross sightings remains elusive. This, despite several claims by the RAF that the sightings were a US military refueling operation. UFO researchers and journalists alike would highlight several errors in the military's judgment. Ultimately, they would have to retract this explanation in less than a week.
The short video below looks at a small collection of UFO images from 1967 to 1989.
References

↑

1
October, 1967, British Officer "Angus" Brooks Encounters UFO, UFO Casesbook

https://www.ufocasebook.com/1967angusbrooks.html

↑

2
The New Science of the UFO, Kenneth W. Behrendt, ISBN 9781481 736237 (page 74)

↑

3
Devon 'Flying Cross' of 1967 Revisited, Ian Ridpath

http://www.ianridpath.com/ufo/flyingcross.html

↑

4
A Covert Agenda: The British Government's UFO Top Secrets Exposed, Nick Redfern, ISBN 9781931 044707

↑

5
 William Robert Loosley, The Sky Battle Over Basel, Sister Mary Of Agreda – Recorded History Is Riddled With UFO Phenomena, Marcus Lowth, Me Time For The Mind, November 2015

https://www.metimeforthemind.com/loosley-basel-agreda-history-riddled-ufo-phenomena.html