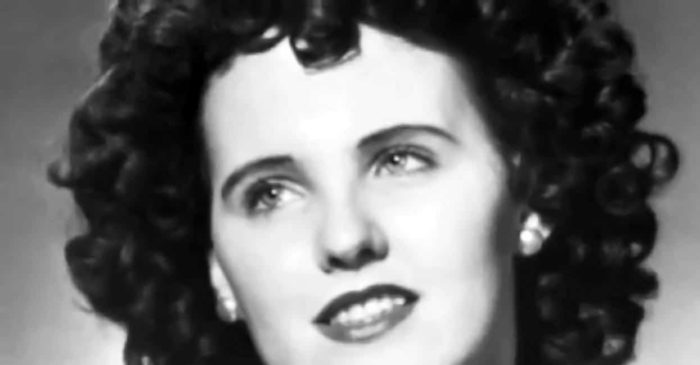 Even experienced detectives at the scene had to admit to shock at the discovery of Elizabeth Short. Her body had been strategically sawn in two at the waist and completely drained of blood. It was then positioned purposely and carefully at the side of the road in Los Angeles for all to see.
Although she was still looking to break into movies, twenty-two year old Short knew her way around the Hollywood community. Known as "The Black Dahlia", most who knew her bluntly stated she would "do anything" to get where she wanted. In short, she would sleep her way to the top if she had to.
For a brief time, she did find herself working as a prostitute to make ends meet. Although never proven, many rumors also swirled that she had "starred" in many privately circulated "sadistic pornographic" movies, in a bid to make connections in Hollywood.
It appeared on this occasion in January 1947 her naivety had shown and she had "preyed" on the wrong person. Or, given the many affairs, she had conducted, had outstayed her welcome.
Knowing this about her personality and movements in the years prior to her death, detectives figured the killer was likely to be someone well established in the film industry – someone with significant power or influence. From the precise severing of the body, it would also be someone with extensive medical knowledge.
It is, without a doubt, one of the darkest murders in American history. Perhaps more so, due to the fact it is still unsolved. It is though indicative of some of the inner workings of Hollywood – the place of dreams.
Hollywood – A Place Built On Promises And Lies!
In Hollywood's early years, [1] many of their stars were more akin to captive performing monkeys than anything else. Producers and directors were only too aware of just how many young women, in particular, were desperate to become stars. Aside from using this to keep their already existing stars "in line" while away from the cameras, many "want-to-be" stars were used in a whole manner of ways with promises of "the big time" and fame.
Many members of the Los Angeles Police Department took money from members of Hollywood to "keep tabs" on their stars. At the very least they would report back on the activities of actors and actresses. They also kept records of the company they were keeping, who they were seeing, and basically monitoring their every move. On occasion, they would even "step in" to prevent anything that would be damaging to the industry.
It wasn't just the police either. Many medical professionals were high on Hollywood's books. In particular, doctors who could treat sexually transmitted diseases. A bigger demand existed for doctors that could, and more importantly, who would perform abortions. Remember, at the time, abortions were illegal. A doctor found guilty of performing one could face up to five years in prison.
Many rising stars who became pregnant at the hands of "high ranking" Hollywood players, would see such doctors. The pregnancy quietly terminated. Even the "girlfriends" of actors, producers, and high-ranking police chiefs "on the payroll", got the same treatment.
In spite of the illegal actions of such doctors, they also held a position of power of their own. They held all of the "dirty" secrets.
The short video below looks at the beginnings of Hollywood and some of the early scandals that took place.
Elizabeth Short – The Black Dahlia
Elizabeth Short was just one young woman barely out her teens and besotted with what Hollywood seemingly had to offer. Like many with the same desires, she was naïve and easily led. She began to keep company with people who far from had her best interests at heart.
She would frequent the infamous Cecil Hotel in downtown Los Angeles, a place where she could meet clients for money, as well as people who may have connections in the industry.
She took the name "The Black Dahlia" due to her preference for black dresses, and according to some, black underwear. Some believe the name connects to the rumored "private" pornographic movies.
Since arriving in Los Angeles to live with her father in 1943 at the age of nineteen, things were tough. They soon fell out. Elizabeth left home, traveling to Santa Barbara, where a charge of underage drinking resulted in further trouble.
She went back to Florida for a time, but by the summer of 1946, she returned to Los Angeles. This time she looked to make it in the film history. She lived in various places and with various people during this time – the last six months of her life.
A Most Gruesome Murder In Tinseltown
The morning of 15th January 1947 [2] brought with it the grim discovery of Short's body on the grass of a vacant lot in the Leimert Park area of Los Angeles. As well as the severing at the waist, there were substantial wounds to Short's face. Cuts from "ear to ear" had left the impression of a wicked grin on her face. Her throat also brandished a deep and vicious slash.
Rope-burn marks were present on both her wrists, indicating rope used to tie and hang her from her hands. She was likely left like this for hours judging from the marks, and suffered a tortuous death.
Detectives had many potential suspects to speak to. All of them, however, had alibis, which meant the police had no leads to follow up on.
Then, out of nowhere, a strange package turned up on the desk of the Los Angeles Examiner. It was from Short's killer. It contained her address book (which had a list of her "clients") that had one page neatly torn out. There were also pictures of Short, her business cards, and her passport. A letter made of newspaper clippings stated:
"Here is Dahlia's belongings! Letter to follow!"
As much attention as the delivery generated, no arrests followed. What wasn't known publically at the time, was detectives very much had a prime suspect. In fact, they even appeared to have a taped confession but declined to prosecute.
Dr. George Hodel
Although he was a suspect at the time, Dr. George Hodel did not face charges of "The Black Dahlia" murder. In 2003, his own son, who studied the case extensively, [3] turned his evidence over to the California DA. The response to Hodel Jr's evidence was that a conviction would be possible on the back of his evidence.
Hodel Jr. received many of his father's possessions upon his death in 1999. One of these items was a small pocket book containing old photographs, including a prominent picture of Elizabeth Short. In short Hodel, Jr believes his father was having an affair with Short. He believes he killed her in part due to the incriminating information she knew about him. However, it was most likely and primarily to satisfy a perverse need to do so.
In 1949, Hodel Sr. found himself in court for sexually abusing his own daughter – fourteen years old at the time. He was eventually acquitted of the charges. The trial and publicity did, however, land him top of the suspects list in the Black Dahlia murder. So much so that the LAPD bugged his home and began listening in to his phone calls. What they heard stunned them!
While discussing that he was a suspect in the murder of Elizabeth Short, Hodel Sr. blurted out, "Supposing I did kill the Black Dahlia? They couldn't prove it now. They can't talk to my secretary because she's dead!"
However no moves went ahead to arrest Hodel, and he vacated the country in 1950 and headed to Asia. Incidentally, he did so without his family.
The short video below looks at the case and the evidence put forward by Steve Hodel.
Links To Other Murders?
Around this time, a spate of murders that had dominated police resources for several years suddenly stopped. They usually involved young women, many of whom were unknown or up-and-coming actresses. One of these murders may include Jean Spangler.
Spangler – an actress whose career was seemingly just taking off – simply vanished into thin air in 1949. The only item of hers found, was her purse, which turned up in Griffith Park. Incidentally, this park is a short walk away from the Hodel family home.
Inside the purse was a note, which although cryptic, suggested that she was due to have an abortion. This would have been illegal to perform.
According to Hodel Jr., his father was one of the few doctors who performed secret abortions in Los Angeles. What's more, he was a known doctor in Hollywood and had performed such procedures on many famous names. Hodel Jr. also claims that Spangler had a close friend in the industry who also knew his father very well. In his opinion, given the likeliness that Spangler was pregnant, it is almost certain the mutual friend introduced the pair.
Whether Spangler was a murder victim or was the victim of a procedure that went wrong is open to debate. As is the question of whether his fleeing to Asia in the wake of the incest and abuse allegations was someone high up in Hollywood, allowing him to leave, possibly even insisting, given the liability he had perhaps become.
Check out the video below that features Steve Hodel speaking about other murders he believes his father committed.
References

↑

1
Death in Hollywood: The dark, seedy side of the American dream (1920s-1930s), Danny Buckland, The Express, February 9th, 2014

https://www.express.co.uk/celebrity-news/458806/Death-in-Hollywood-The-dark-seedy-side-of-the-American-dream-1920s-1930s

↑

2
Black Dahlia Murder Case Hits 68 Years Unsolved, Jennifer Latson, Time, January 15th, 2015

https://time.com/3657606/black-dahlia-murder-case/

↑

3
'Black Dahlia' Murder Case May Be Cracked – By Suspect's Son, Alexandra Ward, Newsmax, February 5th, 2013

https://www.newsmax.com/TheWire/black-dahlia-murder-case-cracked/2013/02/05/id/488924/