Apollo Astronauts Hear Strange Music on the Far Side of the Moon
First Published:

March 16, 2016

Last updated:

November 26th, 2017
Estimated Reading Time:

8 minutes
Recently, we wrote an article about the fabled Dark Side of the Moon, what it means, and why China are looking to become the first country on the planet to get to this side of the moon and see it in the flesh.
However, another major factor that has been in the news for some time has been the discovery of "music" coming from the Dark Side of the Moon. Does this mean that when the Chinese arrive, they are likely to come into contact with an alien rock band?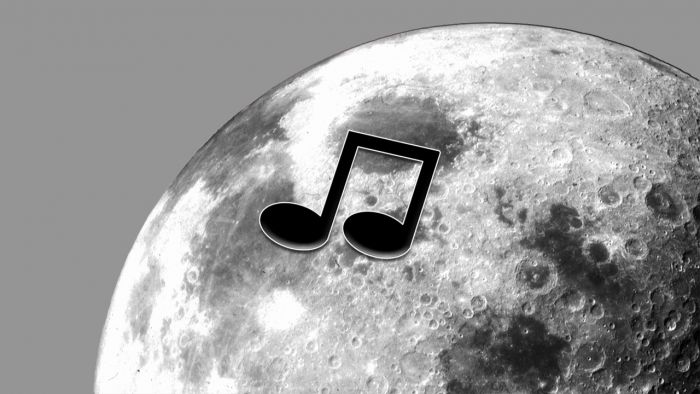 Obviously not – however, the actual ramifications for hearing sound from one side of the moon has been massive from a scientific point of view. The reasons why and the excuses from those who want to disprove theories has been both fascinating and terrifying in equal measure.
In this article, we want to find out what the reasons behind this music tends to be and what it actually means in the long-term. Is there any real purpose to this? Is it just a frequency getting mixed up? Or are we hearing the latest hits from Planet X?
Let's find out together.
Throughout, we're going to take a look at some of the major speculation and theories about the music and what it may mean for humanity – and what we should be looking out for in the future. Also we'll try and compile the best ideas about what it could all mean so that we can understand it better in the future.
This is still quite a developing scenario, so be sure to keep checking back as we'll try and update it as and when we notice changes on this side of things. This, though, is one of the most interesting stories of 2016 so far!
The Sound of Music
First off, it would make sense to decipher the story itself to know what is going on here. Rumours of weird stuff found on the Dark Side of the Moon have flown around for so long now that they are just taken as given, but NASA and their habit of drip-feeding us information about their discoveries has long been something to help fuel these various conspiracy theories.
In 2008, they told us that three astronauts on the Apollo 10 mission – Thomas Stafford, John Young and Eugene Cernan – who orbited around the Dark Side of the Moon came across some very specific sounding music.
However, it's taken until now for that to be made public – take a listen to it here, and you'll probably see why it was kept secret for more than 40 years!
The 1969 mission, which took 31 turns around the moon and the one trip to the side, eventually moved out of the reach of Earth-based broadcasts due to their position with the moon. At this point, though, the weird-as-hell music seems to kick in – on the de-classified recording, one of the agents is heard saying that the music "even sounds outerspacy".
VIDEO: Outer Space Music Part 1
The sound is incredibly awkward and a bit off-putting, so we wonder what it must have felt for the actual astronauts who were there and heard it at the time. In the cold, darkness of space it was something that petrified the team and given it went on for so long, they were even reticent to mention it to the NASA team when they finally got back into radar touch.
They were petrified of being put forward as deluded by the adventures of space, and thought it would go against them when trying out for future space missions.
However, the recording was very much recovered and it proved they weren't nuts at all. The recording made it into the public after the Science Channel released a documentary called "NASA's Unexplained Files" and although in the documentary the idea of anything untoward is swatted away by the NASA techs on the show, it's likely that even the most die—hard space explorer would agree it all seems a bit…weird.
Even Apollo 15 astronaut Al Worden admits that it would have had him petrified to go back out there; the old adage of in space, nobody can hear you scream certainly comes to play with this, right?
If you want to read more about Al and his rather cool views on the world of space and the scandal that follows it, you can see it here. This Smithsonian article is one that is well worth reading, given the interesting angle he takes on NASA.
Also, this video from the LunaCognita YouTube channel:
…lets you see that as far back as 2008 this information was on the web for us to check out. It's well worth investigating the comments and suggestions to see how they tally with the information that we have with us today.
Firmly adjusting our tin foil hats, we wonder why NASA would keep it covered up for so long? Whilst they deflect today with ideas that it's nothing weird, why was it not announced earlier than now? What could be the main reason?
The Given Reason
Like any NASA event, a pre-existing reasons for why it occurred already exists; interference between the LM and Command Module VHF radios. It's so simple – of course! Whilst the astronauts were happy to buy this explanation – describing the noise as "like wind whipping around trees" – it seems that most people aren't quite so happy to buy the official explanation.
However, for anyone who has worked with or on radio, you'll be used to hearing typically weird interference at times. A simple radio interference signal could be the cause behind it all, with various signals making up one combined signal that was semi-rhythmic. Whilst it might be nice to think about the connection between UFOs and this kind of stuff, it seems that there is an official explanation just waiting around the corner to debunk any of the typical myths.
The explanation for the delay, then, is much the same – logical. The pilots came from an era where even the slightest supposed crack in their steely determination to be a success (and tell nobody) was coming under threat. If they started talking about space music and the like, what were the chances they would be let back on-board a flight?
With space flight still at its peak popularity at this stage, it became a major and considerable factor in why nothing was said. At the time, the pilots probably thought they would be spending a large portion of their lives up and down on space missions – so why talk?
The Truth
Sadly, it appears that all the talk of being covered up and the like seems to be a bit overblown. According to those who do major digging into NASA at every turn, the actual audio files have been available since 1973 at the National Archives; you just had to know where to look. In the 70s we obviously have no internet so it would be harder to get access to the kind of stuff. Give another two or so decades passed before the internet was mainstream (and the "Space Race" was consigned to the past) it's no surprise that it managed to fall behind so spectacularly.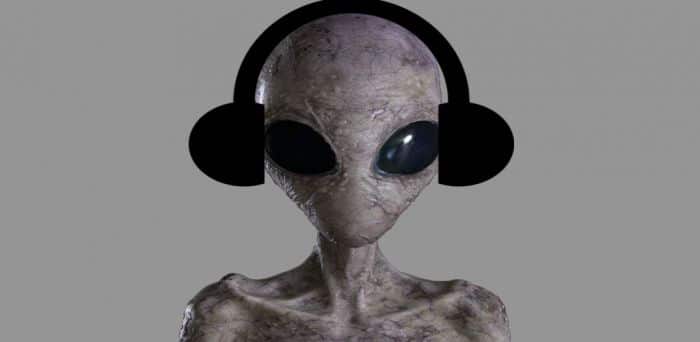 Uploaded for easy viewing for us all online in 2012, the actual manuscript was made available with ease in the 1960s – it just appears to have slipped through the net for years. It was all from the release of the NASA documentary we mentioned above that brought these to the public attention – and conversation – once again. The sound itself sounds something akin to a whistler – a low frequency radio wave that lightning products when it travels from one hemisphere to the next – so it is no surprise that the sound carries such as specific audio profile.
However, it's not likely that we were seeing lightning storms on the moon at the time of the mission – we think that might have been recorded. In the book, Carrying the Fire, Mike Collins wrote that;
There is a strange noise in my headset now, an eerie woo-woo sound. Had I not been warned about it, it would have scared hell out of me. Stafford's Apollo 10 crew had first heard it, during their practice rendezvous around the Moon. Alone on the back side, they were more than a little surprised to hear a noise that John Young in the command module and Stafford in the LM each denied making. They gingerly mentioned it in their debriefing sessions, but fortunately the radio technicians (rather than the UFO fans) had a ready explanation for it: it was interference between the LM's and command module's VHF radios. We heard it yesterday when we turned our VHF radios on after separating the two vehicles, and Neil said that it "sounds like wind whipping around the trees." It stopped as soon as the LM got on the ground, and started up again just a short time ago. A strange noise in a strange place.
He also stated that, had he not been warned about the noise prior to carrying his orbit mission alone whilst the other two walked on the moon, I would have freaked him out as it did his colleagues. Unlike Apollo 10, though, #11 actually landed on the moon. According to Collins, as soon as they did then the "woo-woo" sound stopped more or less right away.
However, not everyone buys into the idea that radio frequency caused the problems. According to Al Worden, an Apollo 15 astronaut, it could be something else. Worden claims that,
"Logic tells me that if there was something recorded on there, then there's something there."
The Old Approach
Another factor that comes to play for us is the fact that the astronauts were not allowed to mention the noises at all. It was seen as questioning the confidence of the flight and would likely have seen their careers as NASA agents come to an end.
This is a major issue, and one that should be as big an issue as the sounds. In that era, when we were discovering some of the most vastly intelligent and unique events we've ever found on this planet, was it really right to be silencing people? To be stopping them from telling the world what they came across out there?
Probably not. Who knows what else an astronaut has been advised to not mention to anyone on account of the fact it would "hurt their image"?
It's something that should definitely be up for consideration at a later doubt. There is of no doubt in our minds that astronauts have had to keep quiet about things that, truthfully, the public would rather have known about. Is that really the best way to run such a powerful organization?
VIDEO: Outer Space Music Part 2
The Aliens on the Moon
NASA has a bit of a history when it comes to conspiracies about meeting other stuff on the moon – a cursory glance at any conspiracy theory website or video will tell you the contempt that many people hold NASA by. However, the actual matter of aliens being on the moon is something that roared back to life when this event was uncovered. Is it possible that these sounds people are hearing from space videos have another issue? After all, it's very easy to use arguments about frequencies etc. on a subject that most people will know nothing about.
This isn't us suggesting NASA are taking people for an idiot – many good sources now can back up this claim – but it's just something we can't get our heads around. Is there a chance that aliens on the moon have been behind more than one set of events? Take this documentary here – it showcases a lot of ideas (not all that we agree with or believe in) that seem to show alien activity. However, why would the aliens just have produced such a dull and boring frequency noise? Unless it was some form of code or otherwise?
This tends to be the prevailing theory amongst conspiracy minded people; they the sound you hear is a frequency that we had to read. And if we had read it, we would have gotten in contact with aliens. However, sometimes it would appear that things are what they seem; on a mission of early space exploration, we came across a frequency issue we never expected.
It's not really that weird an idea, is it?
Many weird noises out there exist and many of them are caused by interference from technology. Is it possible that an early day space shuttle carried enough early tech that could cause these problems? If the same event was to take place today, would the increased range and quality of tech make it less likely that the noise would return?
These tend to be the most challenging parts of working out what we are being sold here. Is it really likely that we are dealing with aliens on the moon making these noises? Or does the official story hold more water?
Looking around at various information released since the turn of the year, this time we are more inclined to believe the suits and the officials.
There's nothing to really suggest that a dull-pitch frequency – sorry, nothing credible – could be suitable for such a usage. This is something that should be taken into account for us – when even the conspiracy theorists are unable to give us a credible theory, it's hard to go against the experts.